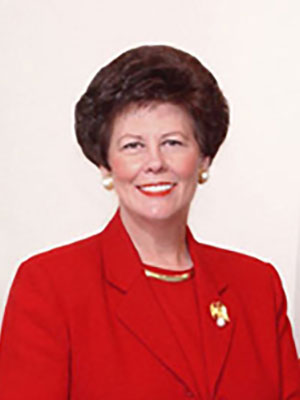 Bio
Toni Jennings, who now chairs a family-owned construction company in Orlando, was Florida's first woman lieutenant governor and a two-time Senate president.
With a passion for education, she began her career as an elementary school teacher. In 1976, though, she decided to run for political office and was elected to the state House of Representatives. Four years later, she won a Senate seat and served in that chamber for the next 20 years, including an unprecedented two consecutive terms as president.
During her tenure as Senate president, much of her focus was on early education, especially school readiness. In 1999, she was instrumental in the passage of the School Readiness Act, which consolidated the state's early education programs into a more cohesive and integrated system. The new law was designed to increase preschoolers' chances of achieving future educational success and becoming productive members of society.
After 24 years of service in the Legislature, Jennings was not able to seek reelection because of the state term-limits rule. She returned to the family business, Jack Jennings & Sons, Inc., but not for long.
She returned to state government in 2003 when then-Gov. Jeb Bush asked her to be the lieutenant governor. Bush relied on her experience and background to help him figure out how to implement a recently passed constitutional amendment that led to a voluntary prekindergarten (VPK) program for all 4-year-olds in Florida. The governor also appointed her as the first chair of the Universal Prekindergarten Education Advisory Council, serving along with David Lawrence Jr., now The Children's Movement chair.
In 2007, she returned to the family construction business, but continued to give of her time and expertise. The Wesleyan College graduate serves on several boards, including the FPL Group, the Nemours Foundation and Rollins College.
She has been involved with the Florida Chamber of Commerce, Workforce Florida and the University of Central Florida Foundation. She is also a member of Florida's Women's Hall of Fame.