Monday, October 14, 2019
Healthy Eating Tips and Tricks for Busy Families
Our expert this month is Rachel Biderman, extension agent supervising the Expanded Food and Nutrition Education Program through the University of Florida Extension. She wrote about how busy parents and teachers can begin fostering healthy eating habits for their families on tight budgets with little time.
At a Glance
With the fast-paced nature of modern life, it can be challenging to find the time and resources necessary to feed ourselves and our family nutritious food. Our expert this week offers tips to help you with:
Healthy eating and cooking for less
Saving money at the grocery store
Keeping food safe
Being active
Cooking and planning meals
Below are a few tips and tricks we want to share with you from the University of Florida's Eating Smart Being Active (ESBA) series. This is the series run by the Expanded Food & Nutrition Education Program (EFNEP) run throughout the state by the University of Florida IFAS Extension (learn more below). We hope they are helpful for busy families.
Grocery Lists and Coupons
Writing out a grocery list before going to the store will save you time and money, especially if you are shopping with your kids. During the EFNEP classes, participants receive a grocery scratch pad that they can use and take to the store.
Take some time before heading out of the house to think through your next week and have a few ideas of meals you would like to make.
You can get your family involved by keeping a running list of your family's favorite meals and snacks on the fridge.
Involve your kids or other family members in writing out the shopping list and keeping it separated by food type (fruits, veggies, meats, dairy, dry goods, frozen, etc.). This will save you time as you get everything you need from one section of the store before moving on to the next.
You can make this into a "game" for older kids, by tasking them with finding specific items on the list for you. This also works great if you are using a coupon flier from the store. You can circle a few items for your kids to find, and hand them the flier to retrieve the items. Kids love being involved in food prep, and this is a great way to make them feel part of the process.
Plan where you will do your shopping based on where you will find the best deals. This may take some extra research, but will save you money in the end. Most grocery stores have deals and savings online too.
Time Savers
A great time saver for busy parents and caregivers is batch cooking once a week or using a crock-pot or insta-pot! Investing some extra time one day of the week will result in more free time the rest of the week.
Batch cooking is when you prepare a lot of a specific kind of food and portion it out to use at later times during the week.
Sunday could be a good day to batch cook, but any day of the week works well. Dedicate a couple of hours on the day of your choice and make that time sacred.
You can cook multiple things at one time, which doubles, or even triples saved time.

For example, you can have a pot of brown rice on the stove while also cooking a pot of beans. At the same time, you can have chicken or vegetables roasting in the oven. In this example, you are cooking three things at once, and all of these can feed your family all week.

Cooking large amounts of food at once saves time, and you can use these different items in different meals.

A large pot of brown rice can be used as a side dish, in burritos, made into fried rice, made into rice salad, or put into soups.
A pot of cooked beans can be used for soups, stews, salads, tacos, to serve with rice, or as zesty bean dip.

Using a crock-pot or insta-pot is another great time saver. You can cook large cuts of meat or beans in a crock-pot while you are at work. You can set the food in the pot in the morning and have dinner ready when you walk in the door after work!
Use your Freezer
In the Eating Smart Being Active (ESBA) lessons, educators teach participants that freezing food is a great way to save money, as it reduces food waste. Proper temperature control and keeping food safe are also important elements in the lessons.
Freshly purchased, un-cooked meat can be frozen for limited amounts of time. Please refer to this chart to safely freeze meat.
Fresh fruits and vegetables can easily be cut up and frozen to make for easier cooking and prepping.

Vegetables that are used often, such as onions, carrots, and celery can be cut up and frozen and pulled out when it is time to cook with them.
Fruits such as strawberries, blueberries, and bananas can be cut and frozen and used for smoothies, oats, or in cereal. Banana swirl is a delicious and easy ESBA recipe!

Cooked items can also be frozen but must be carefully temperature controlled. It is important to reduce the temperature as quickly as possible. This can be done using ice or the refrigerator before moving the dish to the freezer.

Most cooked items can be frozen and saved for another time. These include soups, stews, rice, beans, and cooked vegetables.
Expanded Food and Nutrition Education Program (EFNEP)
The University of Florida IFAS Extension recognized the challenge of eating well in our fast-paced world and implemented the Expanded Food and Nutrition Education Program (EFNEP), the oldest nutrition education program in the Country. For the past 50 years, EFNEP has worked in local Florida communities to provide free nutrition education to limited resource families.
Attending EFNEP Classes
If you liked the information above, these and many more topics are covered in the ESBA lessons taught by educators in the EFNEP classes. The classes all involve preparing a food item, which gives participants an opportunity for hands-on learning. Additionally, participants receive an incentive item each class that includes a cutting board, measuring cups, a reusable grocery bag, and a produce brush, to name a few. Participants who complete the series graduate with a certificate of completion from The University of Florida.
When participants attend all nine lessons, they report increased fruit and vegetable consumption, increased physical activity, increased food security, improved food safety practices and increased food resource management.
If you are interested in either attending an EFNEP class, or bringing EFNEP to your site, please contact:
Rachel Biderman, Extension Agent
rbiderman@ufl.edu
(786) 422-2187
For more information about the program and for a full list of recipes, please visit: https://efnep.ifas.ufl.edu/recipes/
---
About the Author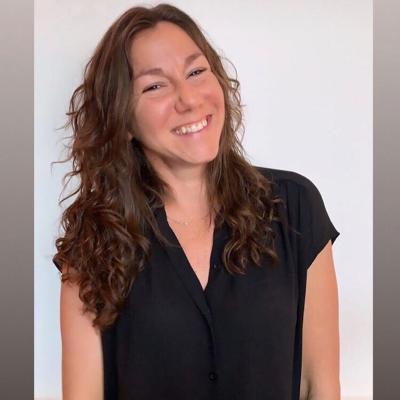 Rachel Biderman received her Bachelors of Social Work from Appalachian State University with a concentration in food security and education. Rachel currently works as the Extension Agent supervising the Expanded Food and Nutrition Education Program through The University of Florida Extension. She has strong nutrition knowledge and many years of experience working with diverse audiences. She has managed and trained a team of Chef instructors, interns and volunteers to affect nutrition and health behavior change throughout Miami-Dade County. Rachel currently sits on numerous committees such as M-DCPS Department of Food and Nutrition Wellness Committee and Live Healthy Miami Gardens Physical Activity and Nutrition Sub Council.