Staying Active While Physical Distancing
Our expert this week is the Health Council of Southeast Florida. In collaboration with Early Care and Education stakeholders like the Florida Department of Health, Florida Department of Children and Families, Florida Office of Early Learning, and University of Florida, they aim to help Florida's children be the healthiest they can be. This month, they provide a few examples of how you can stay active with your kids at home. 
At a Glance
Children have so much energy! We know that social distancing and school closures make it difficult to keep your children active and engaged. It can be a challenge to give them enough opportunities to blow off steam, so we hope these examples save you some energy this week!
Increasing Physical Activity
We know that the following five practices help prevent obesity:
Increase Physical Activity
Limit Screen Time
Provide Healthy Food
Offer Healthy Beverages
Support Breastfeeding
Since you and your children are living in a new reality set out by COVID-19, we wanted to focus on increasing physical activity, which is crucial in supporting a child's wellness, and might be extra difficult under these circumstances.
It can be a real challenge to stay active when we are asked to mostly stay inside, stay out of parks and public recreation areas, and not congregate in groups, but it's important to help children and infants stay active to reduce their risk of obesity and other related chronic health conditions, like diabetes.
Here are some examples:
Popcorn Game

A great group activity for building fine motor skills and social skills is the popcorn game! Just grab a blanket and a beach ball (or any light ball will do).  Have your child hold one side of the blanket while you or another person hold the other, then put the beach ball on top. Shake the blanket, so the ball bounces but does not fall off. This game helps your child strengthen the muscles in their hands and teaches coordination and cooperation.

Go for a walk outside

Bring a bucket and see if your child wants to pick up leaves and other treasures along the way.

Blow bubbles and try to pop them
Kick a ball
Play catch or throw a Frisbee
Have a dance party or play freeze dance

Play music and take turns instructing the group to freeze! This activity helps toddlers and young children learn to follow instructions.

While your infant is awake, lay them on their stomach for supervised tummy time
Improved Motor Skills
Increasing physical activity also supports the development of children's motor skills and social skills. Having strong motor skills allows a child to explore more of their environment while expanding their thinking skills. Motor skills are classified as gross or fine.
Gross motor skill development is the strengthening of large muscles, and fine motor skill development is the strengthening of small muscle groups.
Increased Wellbeing
Physical activity also benefits the wellbeing of children through improved fitness and heart health, healthy bone development, better sleep, and enhanced mood and sense of wellbeing.
Although these best practices are for ECE programs, it is important to reinforce these healthy habits at home. Adding more physical activity as a family can be a fun way to reinforce these healthy habits! This can be as easy as replacing screen time with creative and inexpensive physical activity opportunities.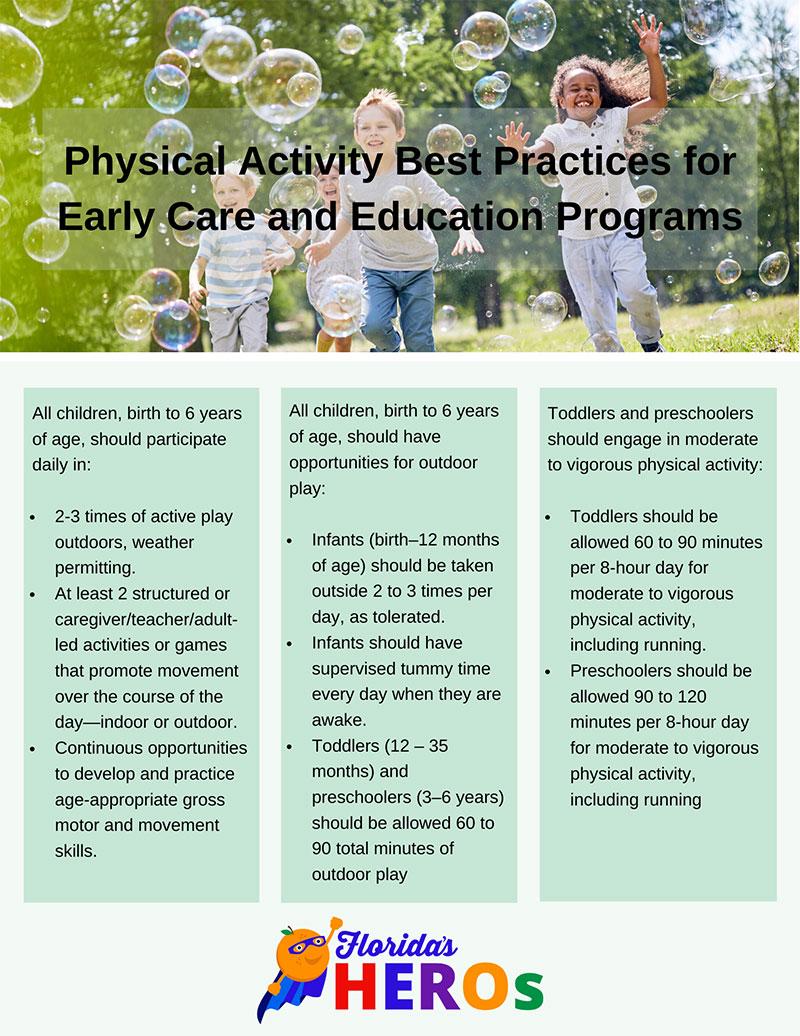 More Resources
To learn more about all of our best practices, visit fleceaward.org.
Additional information about best practices and resources can be found at healthykidshealthyfuture.org.
Physical activity ideas for every day can be found in the Get Moving Today Activity Calendar.
---
About the Author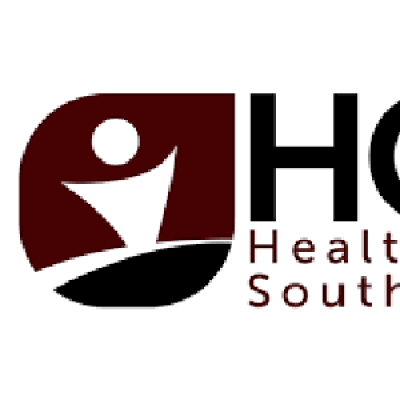 The Health Council of Southeast Florida is one of eleven private Local Health Planning Councils, as defined in Florida's statutes. HCSEF develops regional health plans to improve access to health care, reduce disparities in health status, assist state and local governments in the development of sound and rational health care policies, and advocate on behalf of the underserved. Florida's HEROs (Healthy Environments for Reducing Obesity) is managed by the Health Council of Southeast Florida and supported by funding from Nemours Children's Health System through the Centers for Disease Control and Prevention (CDC). Florida's HEROs Recognition Program emphasizes the integration of the five best practice areas and provides professional development opportunities and technical assistance to Early Care and Education Programs that are interested in applying for recognition. Professional development opportunities include continuing education credits for ECE staff through online or in-person trainings. The technical assistance is for progams (home and site-based) that may want assistance integrating best practice standards or applying for the recognition. To learn more, email us at info@hcsef.org or call us at (561) 844-4220.