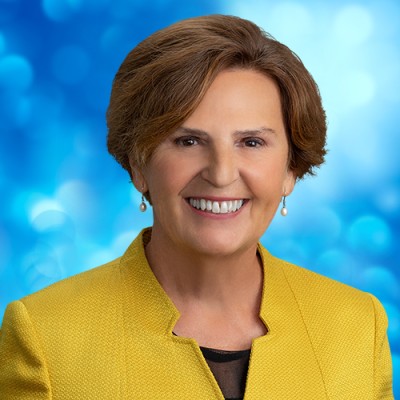 Marlene Spalten
President and CEO, Community Foundation Tampa Bay
Industry: 501(c)(3) HQ: Tampa - Hillsborough
How This Boss Makes an Impact for Children in Florida
As a mother of five, Marlene Spalten developed an interest in early learning, becoming a certified teacher and leader in a paramount early learning center in Litchfield, Connecticut.  She transitioned to lead the fundraising program for the private school that created the Center, primarily to serve faculty families. Her new position paid significantly more than her childcare role - which she considered a grave injustice. From that experience, Marlene has become an advocate for business sponsored, quality childcare programs and family friendly workplace policies – a huge benefit for employees and employers alike. As President & CEO of Community Foundation Tampa Bay, paid leave, health care, flexible work schedules and hybrid work settings are central policies to support employees' families. Marlene understands firsthand the importance of a family-centric workplace where caregivers can be productive employees because, most importantly, they are able to care for and nurture their families. 
Bio
Marlene Spalten is the President and CEO of the Community Foundation Tampa Bay. During her ten-year tenure, donor advised, and permanent assets have more than tripled to $500 million while annual CFTB grants to the Tampa Bay community have grown to $72 million. In 2023, Marlene was named to the Tampa Bay Business Journal Power 100 list of influential community leaders. Marlene is a graduate of Cornell College and held leadership roles with Baptist Health Foundation and The Bolles School in Jacksonville, and Forman School in Connecticut. She has more than 30 years of philanthropy experience.
As a community leader, Marlene is Chair of the Board of Advisors of the Florida College Access Network (FCAN) and she serves on the Board of the Tampa Bay Chamber. She is Secretary of the Board of the International Women's Forum (IWF Suncoast) and Chair of the Governance Committee. She also serves on the Community Advisory Boards for the Junior League of Tampa and Junior Achievement. She is a member of the Athena Society, several area Chambers and Economic Development Corps, and the Tampa Bay Partnership. Marlene is a former Board Member of the Florida Philanthropic Network (FPN) and Community Foundations of Florida (CFF).
Under her leadership, the Community Foundation serves as the convening organization for the LEAP Tampa Bay College Access Network, Thrive by Five, and the Digital Inclusion Project. She is a member of both the Vision and Leadership Councils of LEAP, which was recognized in 2021 with the National College Attainment Network's Award of Excellence, as Member of the Year. During her tenure, CFTB has successfully launched major initiatives including Mental Health First Aid training, and, in collaboration with the Tampa Bay Partnership, USF, and United Way Suncoast, produces the annual Tampa Bay Regional Competitiveness Report.