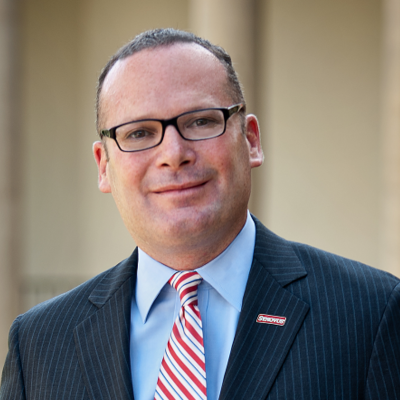 Sean Simpson
Division CEO, Synovus
Industry: Finance HQ: Tampa, Florida
How This Boss Makes an Impact for Children in Florida
The parental leave policy at Synovus was enhanced in 2023, allowing eligible team members additional paid time and flexibility. Team members now have up to 12 weeks of pay anytime within 12 months of an adoption or birth, and the policy also allows for medical leave needed in two-week increments before a birth. Expanding the policy demonstrates Synovus' continued care for its team members and their families. Care for families also reaches Synovus' local communities. In partnership with Junior Achievement USA (JA), Synovus delivers lessons on essential life skills, including financial literacy, work and career readiness, and entrepreneurship, to thousands of elementary and middle school students in Florida and the southeast. These JA learning experiences rely on volunteer partners, and Synovus team members have volunteered thousands of hours since the partnership began in late 2022. 
In addition to Junior Achievement, Synovus' financial education program, Raise the Banner, educates individuals about basic financial concepts to help them make confident financial decisions and reach their personal and economic goals. Synovus partners with nonprofits, schools, universities, and other organizations to offer in-person financial education classes through the Federal Deposit Insurance Corporation's (FDIC) Money Smart program. 
Bio
As a division CEO for Synovus, Sean Simpson leads the community banking operation for the Florida division. He oversees a talented team of professionals and support teams in executing Synovus Bank's strategy across the Florida footprint in retail banking, commercial banking, and private wealth management. Sean is devoted to supporting valued initiatives in all of Synovus' business interests designed to drive growth in local markets, reduce expenses, and increase shareholder value.