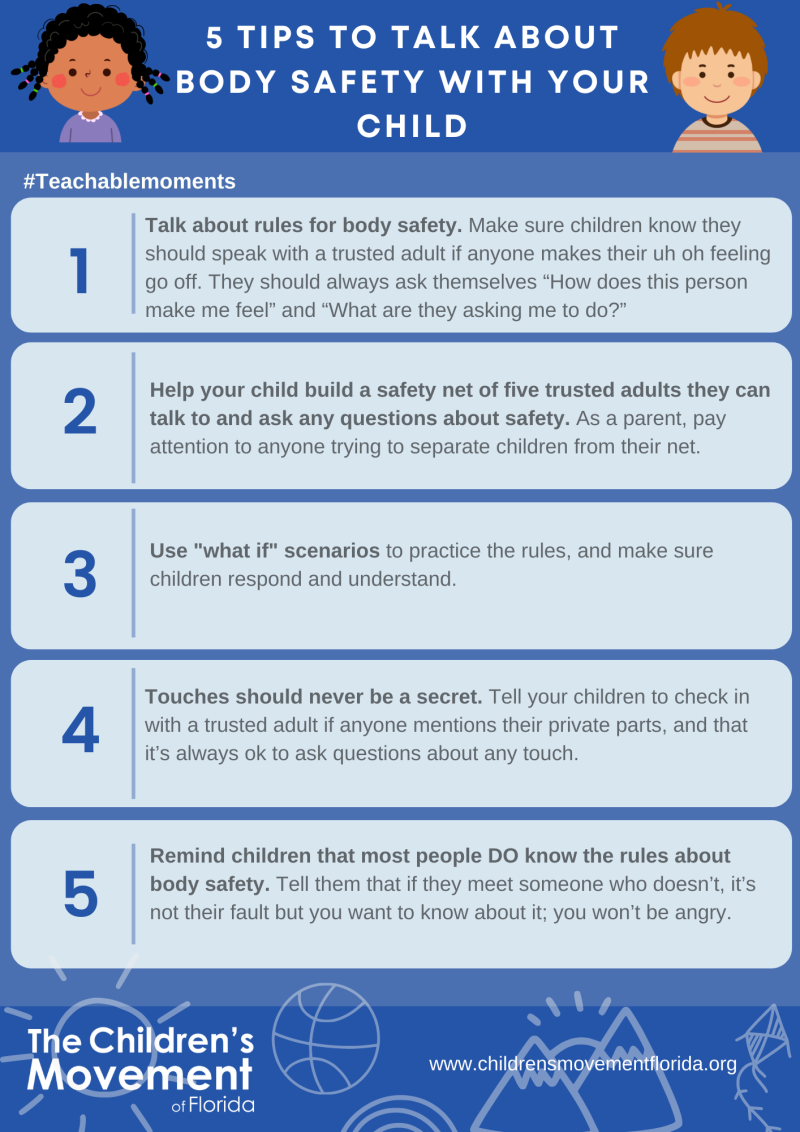 5 Tips to Talk About Body Safety With Your Child
1. Talk about rules for body safety. Make sure children know they should speak with a trusted adult if anyone makes their uh oh feeling go off. They should always ask themselves "How does this person make me feel" and "What are they asking me to do?" 
2. Help your child build a safety net of five trusted adults they can talk to and ask any questions about safety. As a parent, pay attention to anyone trying to separate children from their net.  
3. Use "what if" scenarios to practice the rules, and make sure children respond and understand. 
4. Touches should never be a secret. Tell your children to check in with a trusted adult if anyone mentions their private parts, and that it's always ok to ask questions about any touch. 
5. Remind children that most people DO know the rules about body safety. Tell them that if they meet someone who doesn't, it's not their fault but you want to know about it; you won't be angry.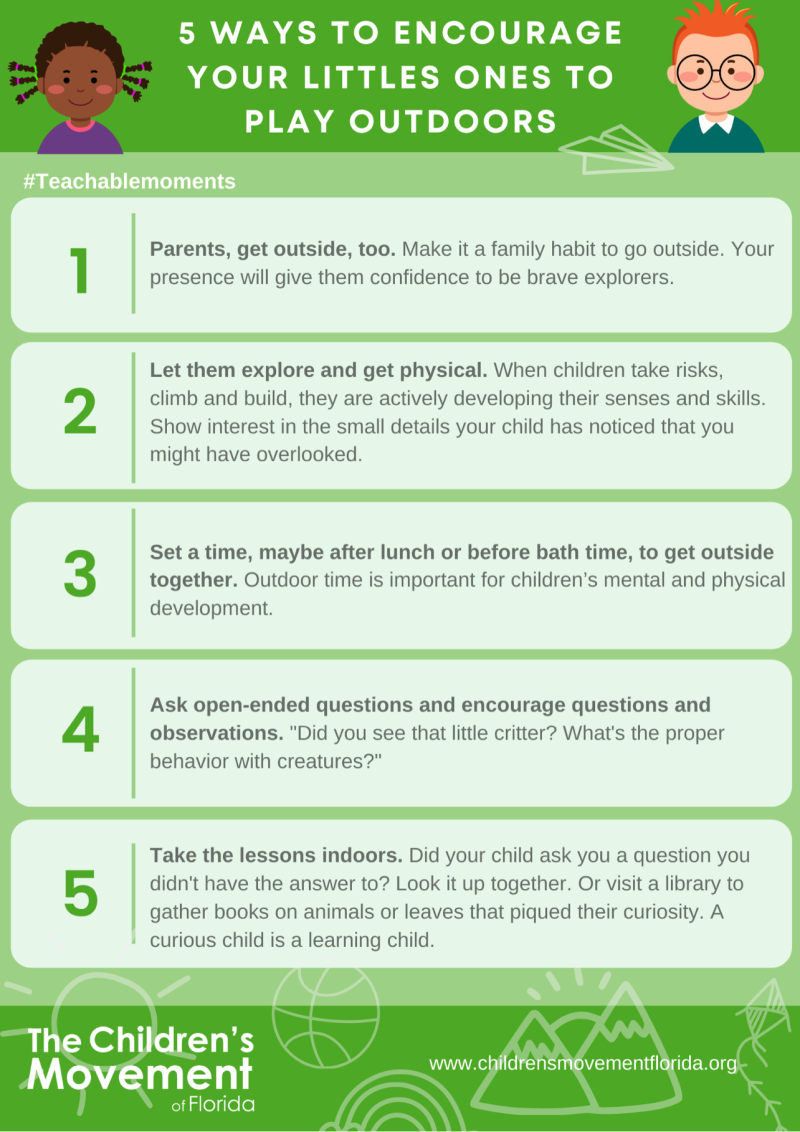 5 Ways To Encourage Your Little Ones to Play Outdoors
Parents, get outside, too. Make it a family habit to go outside. Your presence will give them confidence to be brave explorers.
Let them explore and get physical. When children take risks, climb and build, they are actively developing their senses and skills. Show interest in the small details your child has noticed that you might have overlooked.
Set a time, maybe after lunch or before bath time, to get outside together. Outdoor time is important for children's Mental and physical development. 
Ask open-ended questions and encourage questions and observations. "Did you see that little critter? What's the proper behavior with creatures?"
Take the lessons indoors. Did your child ask you a question you didn't have the answer to? Look it up together. Or visit a library to gather books on animals or leaves that piqued their curiosity. A curious child is a learning child.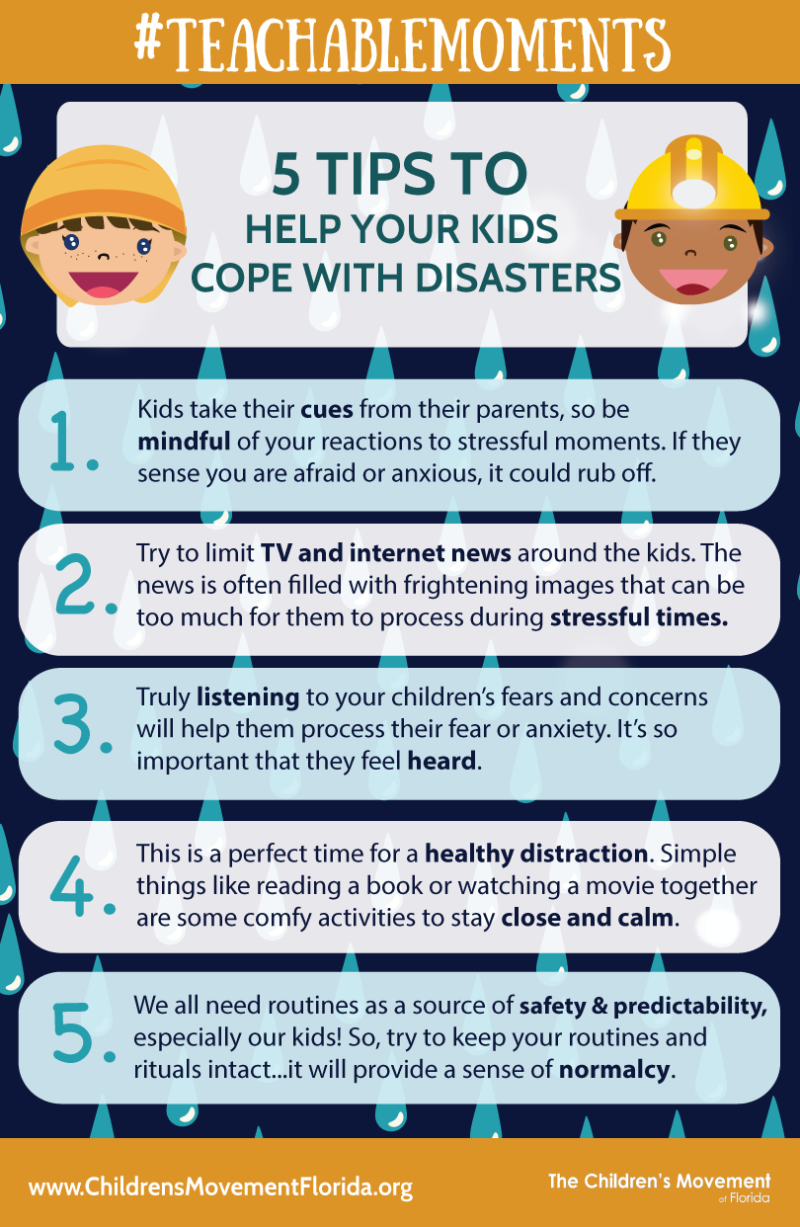 5 Tips to Help Your Kids Cope With Disasters
Kids take their cues from their parents, so be mindful of your reactions to stressful moments. If they sense you are afraid or anxious, it could rub off.
Try to limit TV and internet news around the kids. The news is often filled with frightening images that can be too much for them to process during stressful times.
Truly listening to your children's fears and concerns will help them process their fear or anxiety. It's so important that they feel heard.
This is a perfect time for a healthy distraction. Simple things like reading a book or watching a movie together are some comfy activities to stay close and calm.
We all need routines as a source of safety & predictability, especially our kids! So, try to keep your routines and rituals intact....it will provide a sense of normalcy.
Share Share on Facebook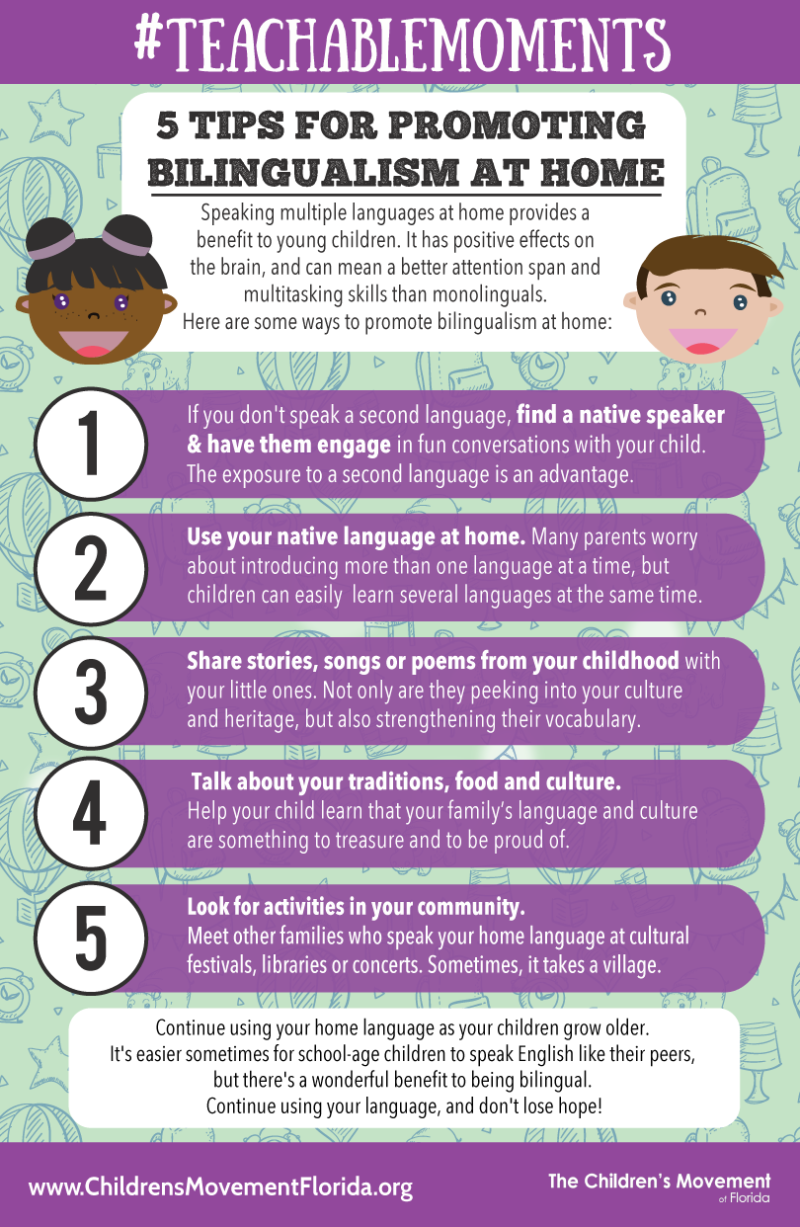 5 Tips for Promoting Bilingualism at Home
Speaking multiple languages at home provides a benefit to young children. It has positive effects on the brain, and can mean a better attention span and multitasking skills than monolinguals. Here are some ways to promote bilingualism at home:
1. If you don't speak a second language, find a native speaker and have them engage in fun conversations with your child. The exposure to a second language is an advantage.
2. Use your native language at home. Many parents worry about introducing more than one language at a time,  but children can easily learn several languages at hte same time. 
3. Share stories, songs or poems from your childhood with your little ones. Not only are they peeking into your culture and heritage, but also strengthening their vocabulary. 
4. Talk about your traditions, food and culture. Help your child learn that your family's language and culture are something to treasure and to b e proud of.
5. Look for activities in your community. Meet other families who speak your home language at cultural festivals, libraries or concerts. Sometimes, it takes a village.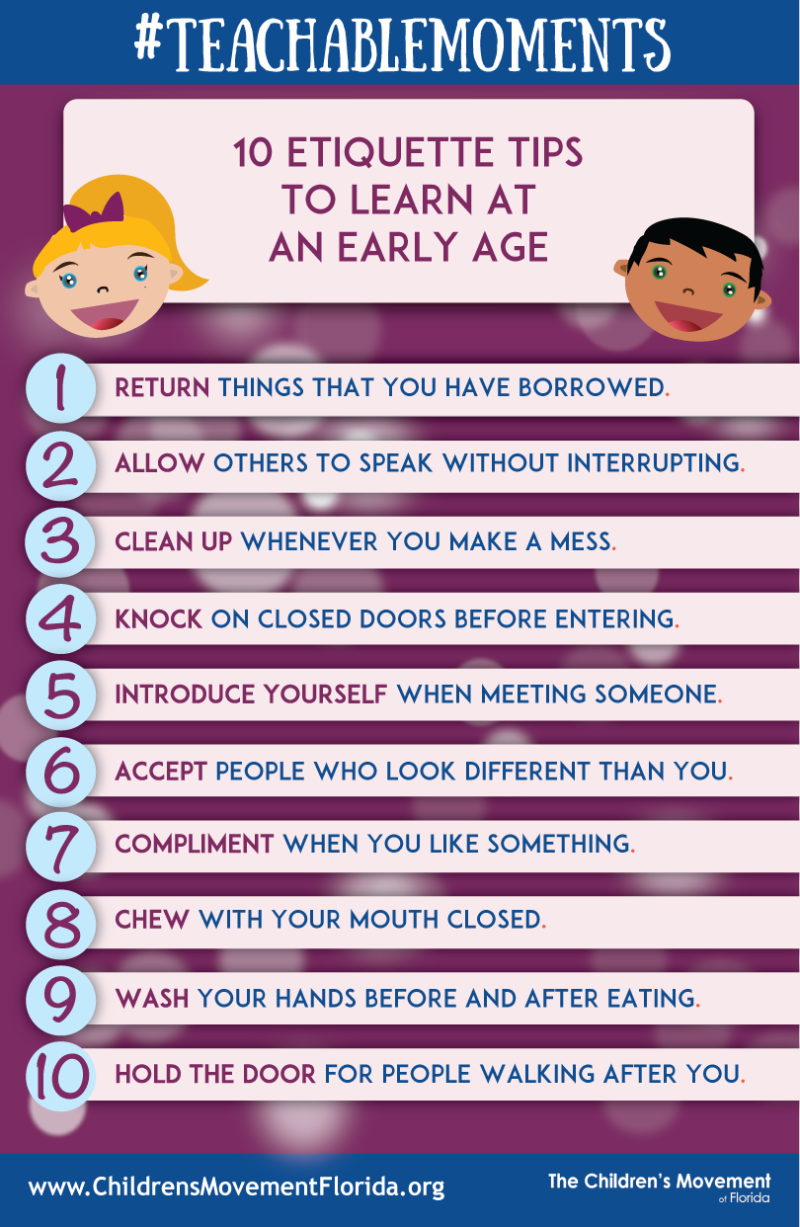 10 Etiquette Tips to Learn at an Early Age
Return things that you have borrowed.
Allow others to speak without interrupting.
Clean up whenever you make a mess.
Knock on closed doors before entering.
Introduce yourself when meeting someone.
Accept people who look different than you.
Compliment when you like something.
Chew with your mouth closed.
Wash your hands before and after eating.
Hold the door for people walking after you.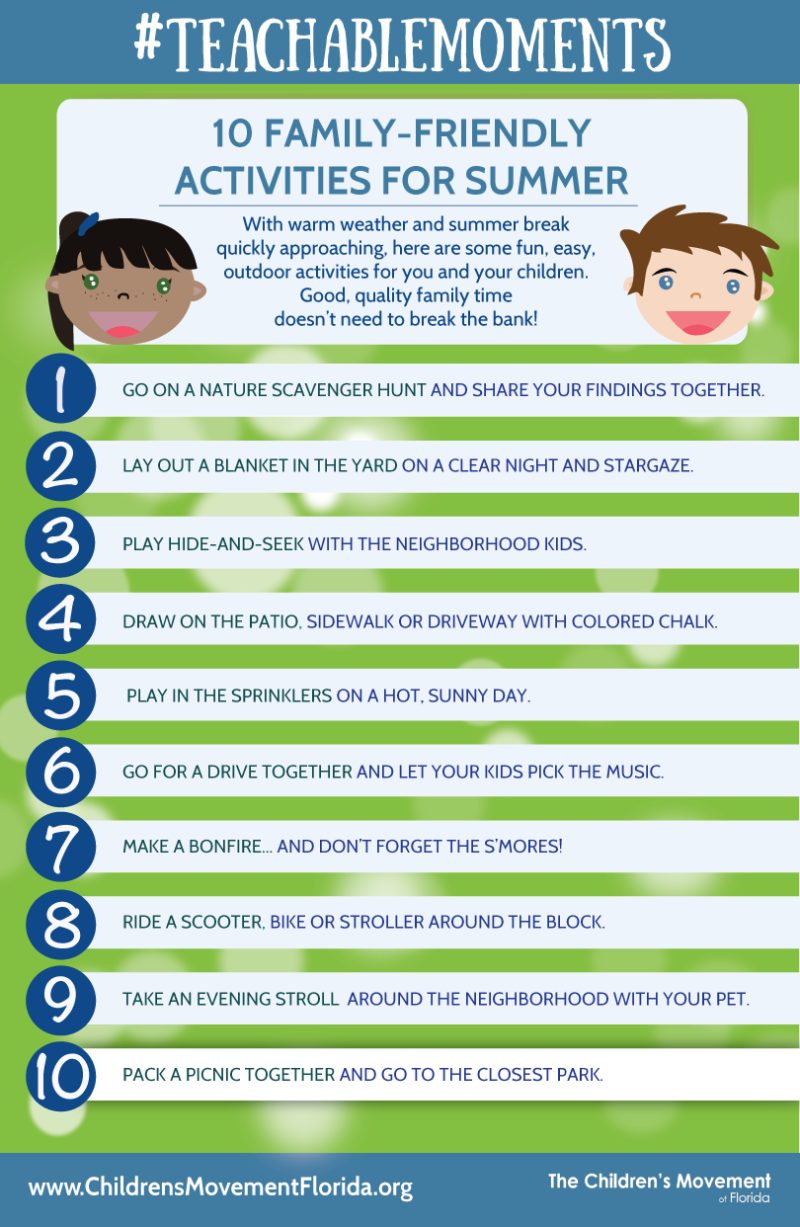 10 Family-Friendly Activities for Summer
Go on a nature scavenger hunt and share your findings together.
Lay out a blanket in the yard on a clear night and stargaze.
Play hide-and-seek with the neighborhood kids.
Draw on the patio, sidewalk or driveway with colored chalk.
Play in the sprinklers on a hot, sunny day.
Go for a drive together and let your kids pick the music. 
Make a bonfire...and don't forget the s'mores!
Ride a scooter, boke or stroller around the block.
Take an evening stroll, around the neighborhood with your pet.
Pack a picnic together and go to the closest park.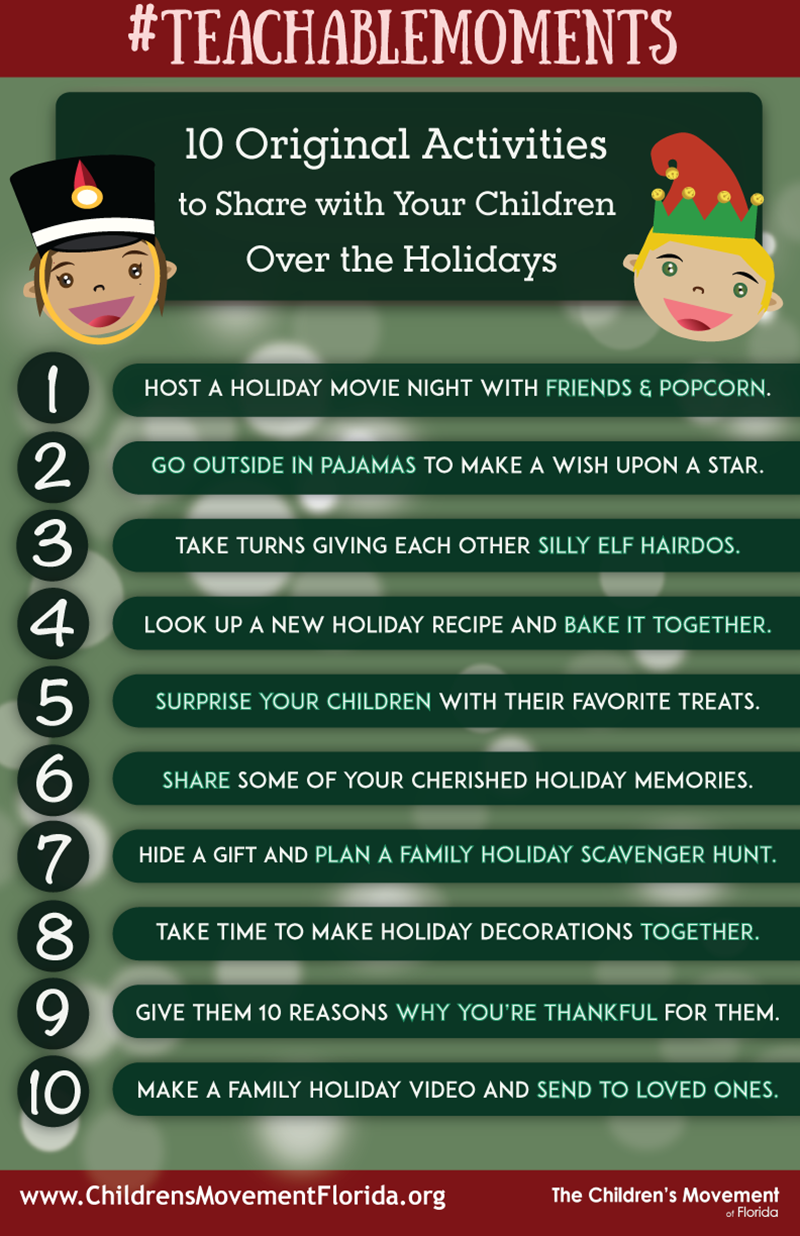 10 Original Activities to Share With Your Children Over the Holidays
Host a holiday movie night with friends and popcorn.
Go outside in pajamas to make a wish upon a star.
Take turns giving each other silly elf hairdos.
Look up a new holiday recipe and bake it together.
Surprise your children with their favorite treats. 
Share some of your cherished holiday memories.
Hide a gift and plan a family holiday scavenger hunt.
Take time to make holiday decorations together.
Give them 10 reasons why you're thankful for them.
Make a family holiday video and send to loved ones.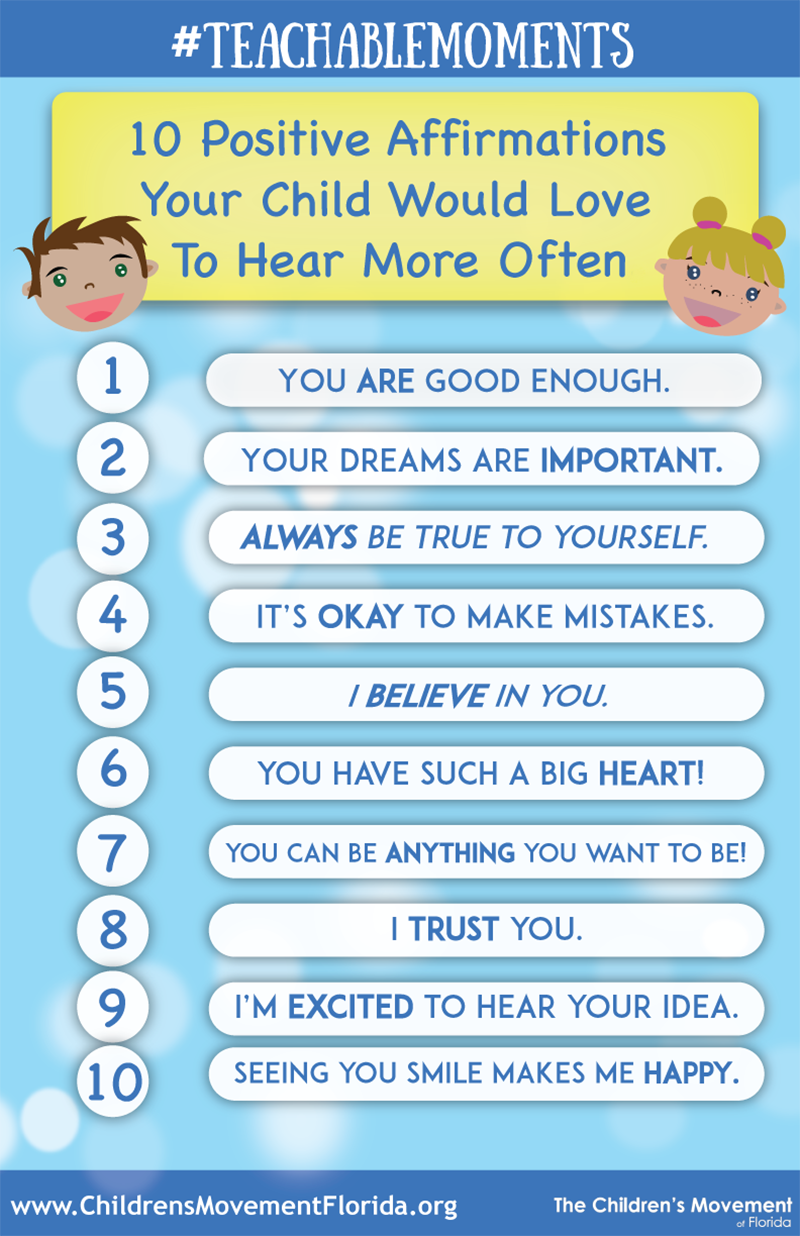 10 Positive Affirmations Your Child Would Love to Hear More Often
You are good enough.
Your dreams are important.
Always be true to yourself.
It's okay to make mistakes.
I believe in you.
You have such a big heart!
You can be anything you want to be!
I trust you.
I'm excited to hear your idea.
Seeing you smile makes me happy.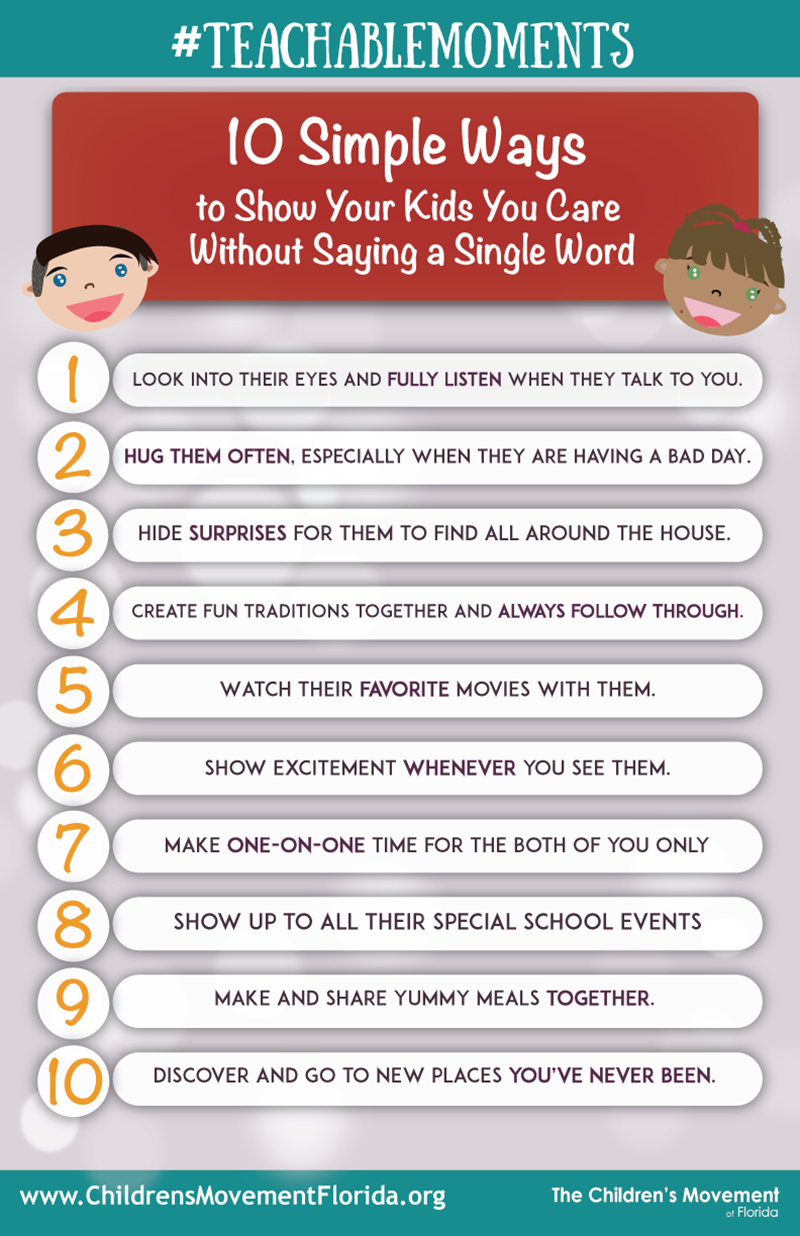 10 Simple Ways to Show Your Kids You Care Without Saying a Single Word
Look into their eyes and fully listen when they talk to you.
Hug them often, especially when they are having a bad day.
Hide surprises for them to find all around the house. 
Create fun traditions together and always follow through.
Watch their favorite movies with them.
Show excitement whenever you see them.
Make one-on-one time for the both of you only.
Show up to all their special school events.
Make and share yummy meals together.
Discover and go to new places you've never been.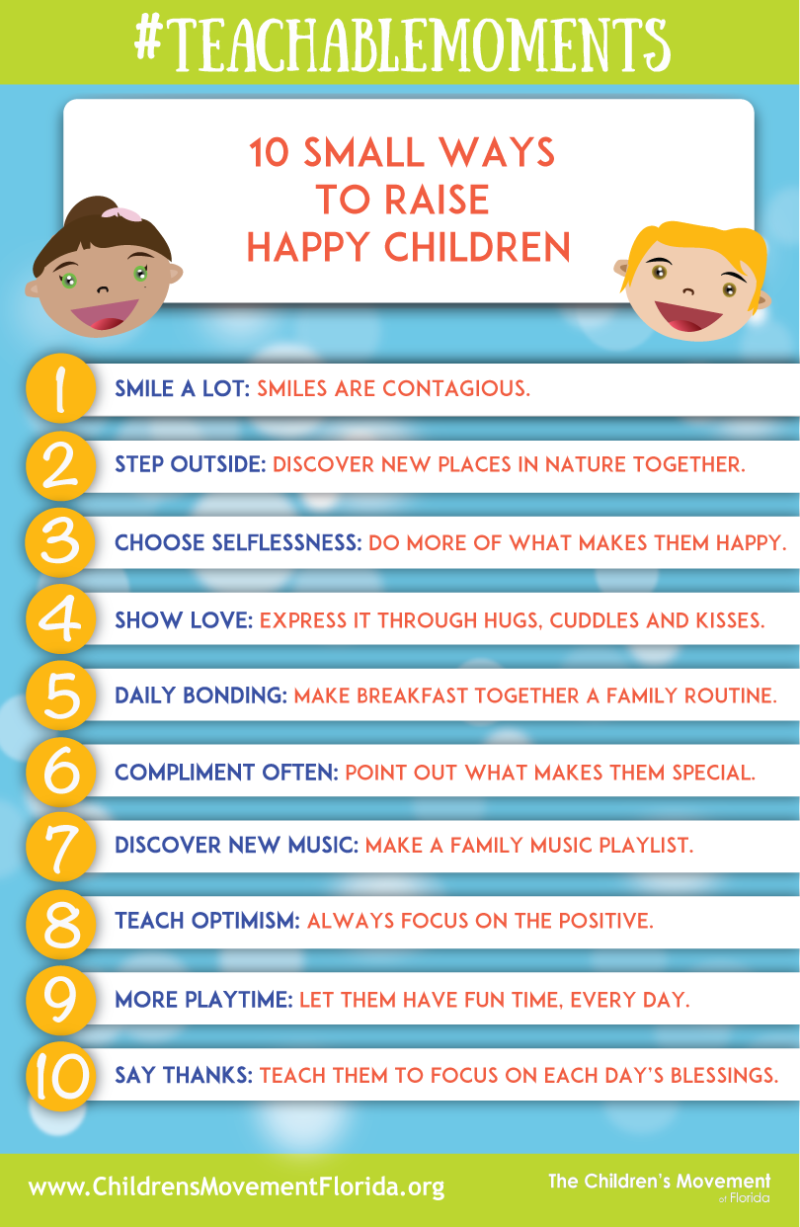 10 Small Ways to Raise Happy Children
Smile a lot: Smiles are contagious.
Step outside: Discover new places in nature together.
Choose selflessness: Do more of what makes them happy.
Show love: Express it through hugs, cuddles and kisses.
Daily bonding: Make breakfast together a family routine.
Compliment often: Point out what makes them special.
Discover new music: Make a family music playlist.
Teach optimism: Always focus on the positive.
More playtime: Let them have fun time, every day.
Say thanks: Teach them to focus on each day's blessings.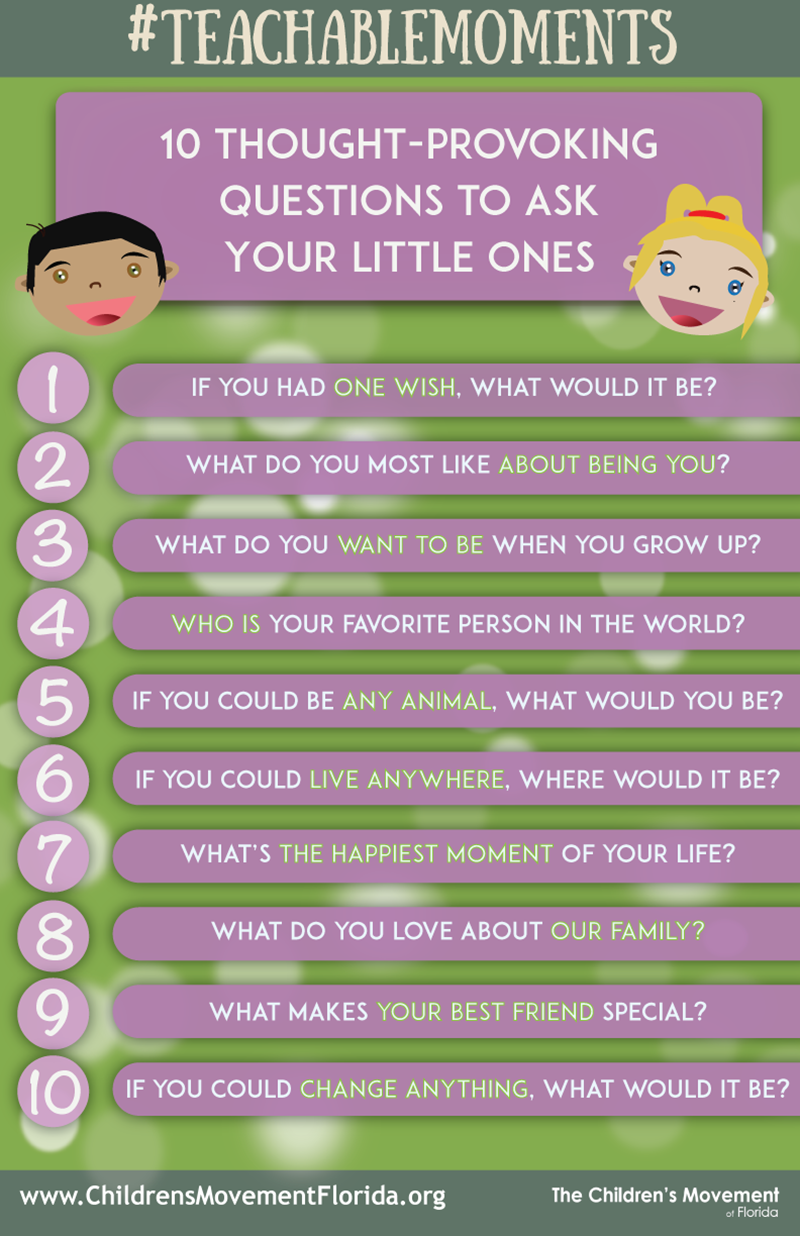 10 Thought-Provoking Questions to Ask Your Little Ones
If you had one wish, what would it be? 
What do you most like about being you?
What do you want to be when you grow up?
Who is your favorite person in the world?
If you could be any animal, what would you be?
If you could live anywhere, where would it be?
What's the happiest moment of your life?
What do you love about our family? 
What makes your best friend special?
If you could change anything, what would it be?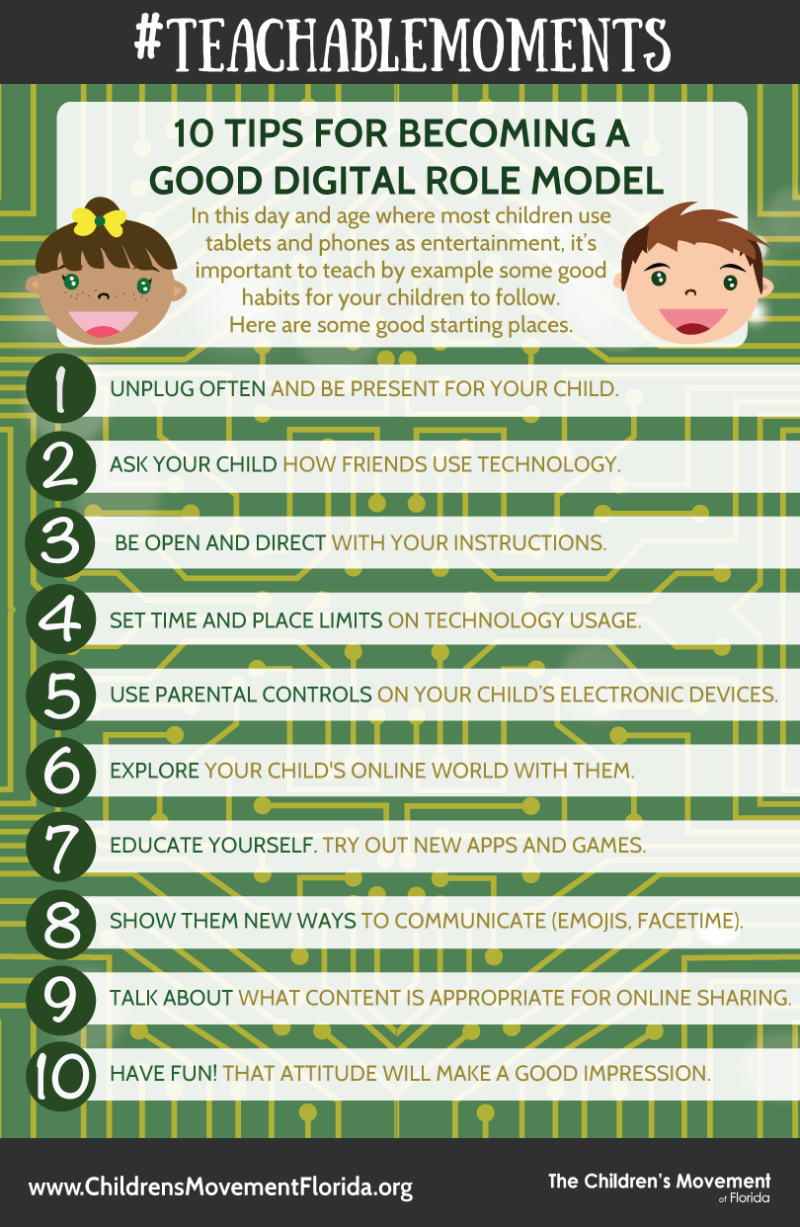 10 Tips for Becoming a Good Digital Role Model
Unplug often and be present for your child.
Ask your child how friends use technology.
Be open and direct with your instructions.
Set time and place limits on technology usage.
Use parental controls on your child's electronic devices.
Explore your child's online world with them.
Educate yourself. Try out new apps and games.
Show them new ways to communicate (emoji's, FaceTime).
Talk about what content is appropriate for online sharing.
Have fun! That attitude will make a good impression.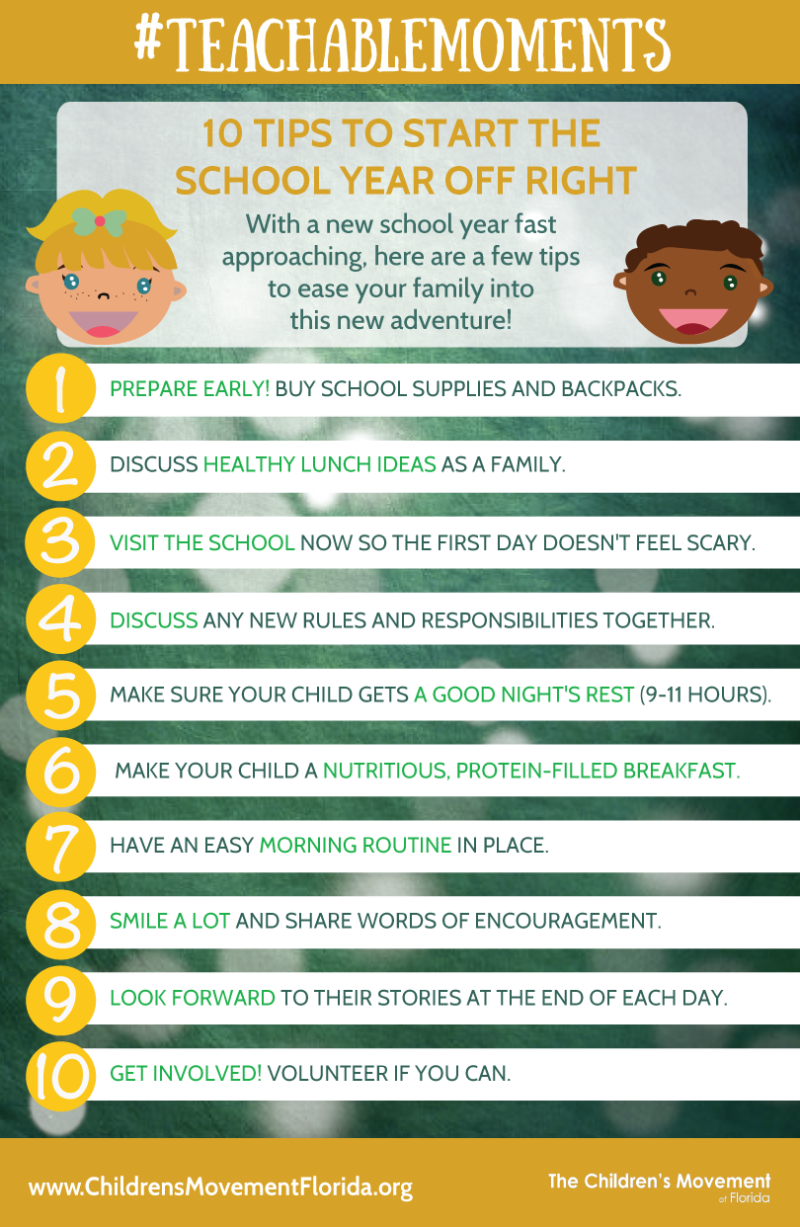 10 Tips to Start the School Year Off Right
Prepare early! Buy school supplies and backpacks.
Discuss healthy lunch ideas as a family. 
Visit the school now so the first day doesn't feel scary.
Discuss any new rules and responsibilities together.
Make sure your child gets a good night's rest (9-11 hours).
Make your child a nutritious, protein-filled breakfast.
Have an easy morning routine in place.
Smile a lot and share words of encouragement.
Look forward to their stories at the end of each day.
Get involved! Volunteer if you can.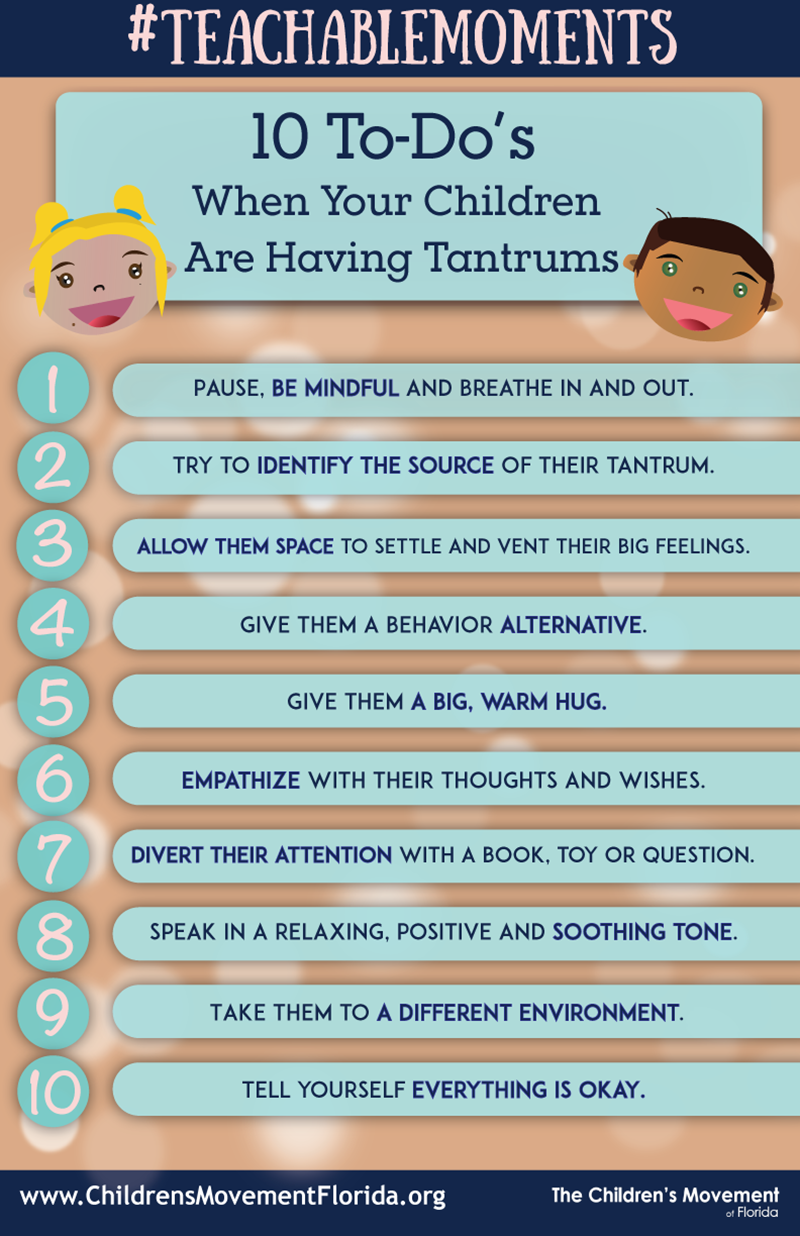 10 To-Dos When Your Children are Having Tantrums
Pause, be mindful, and breathe in and out.
Try to identify the source of their tantrum.
Allow them space to settle and vent their big feelings.
Give them a behavior alternative.
Give them a big, warm hug.
Empathize with their thoughts and wishes.
Divert their attention with a book, toy or question.
Speak in a relaxing, positive and soothing tone.
Take them to a different environment.
Tell yourself everything is okay.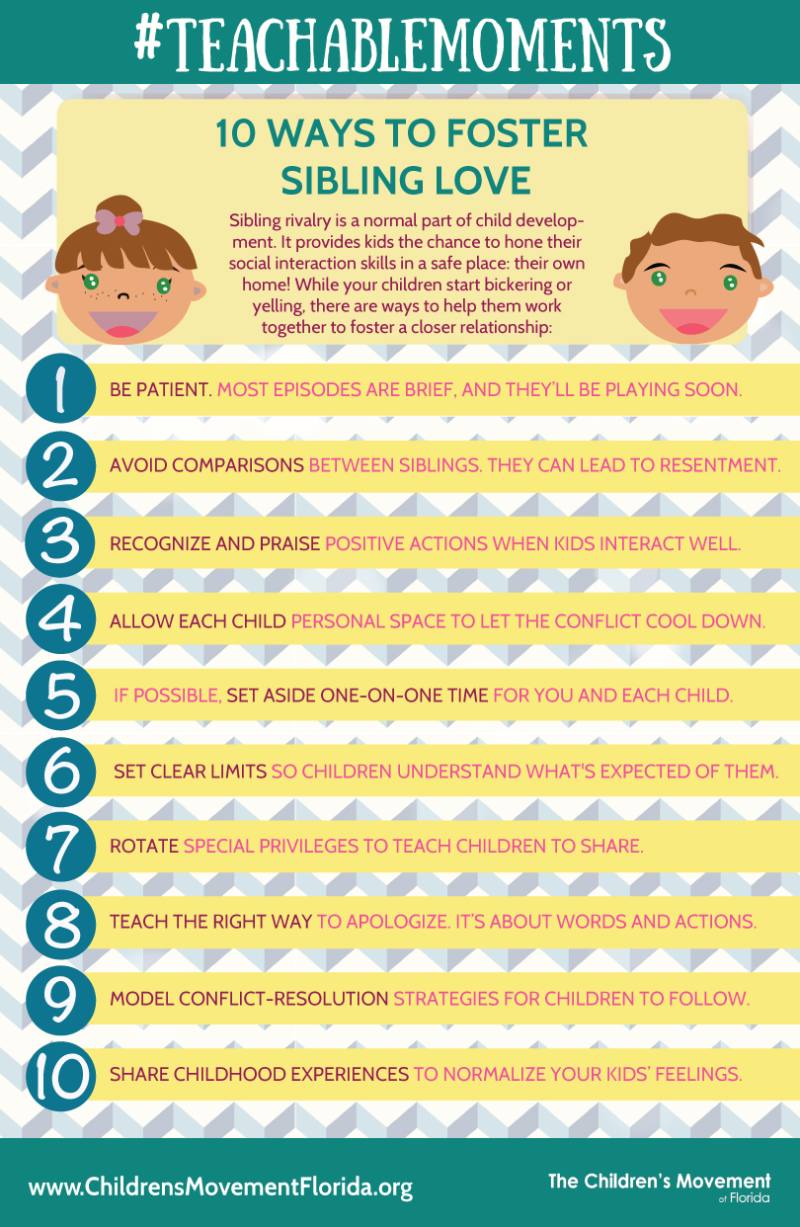 10 Ways to Foster Sibling Love
Be patient. Most episodes are brief, and they'll be playing soon.
Avoid comparisons between siblings. They can lead to resentment.
Recognize and praise positive actions when kids interact well.
Allow each child personal space to let the conflict cool down.
If possible, set aside one-on-one time for you and each child. 
Set clear limits so children understand what's expected of them.
Rotate special privileges to reach children to share.
Teach the right way to apologize. It's about words and actions.
Model conflict-resolution strategies for children to follow.
Share childhood experiences to normalize your kids' feelings.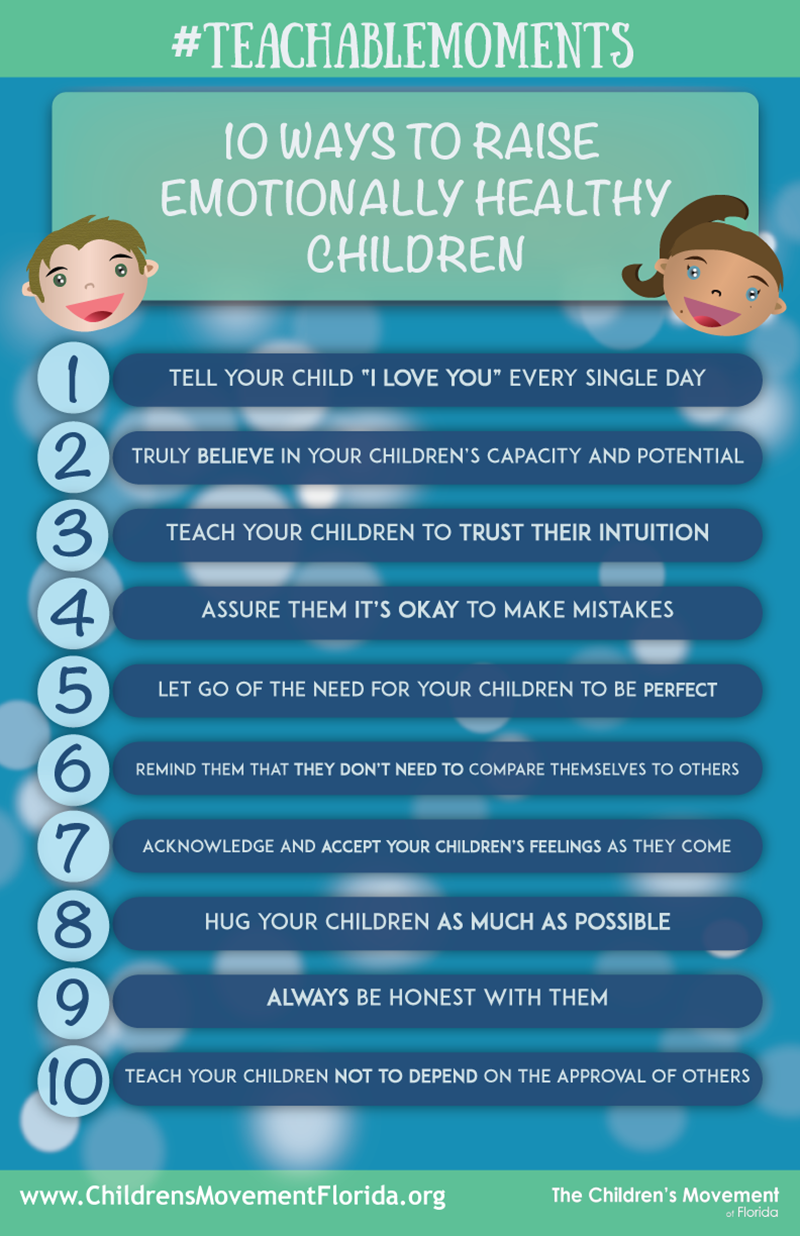 10 Ways to Raise Emotionally Healthy Children
Tell your child "I love you" every single day.
Truly believe in your children's capacity and potential.
Teach your children to trust their intuition.
Assure them it's okay to make mistakes.
Let go of the need for your children to be perfect. 
Remind them that they don't need to compare themselves to others.
Acknowledge and accept your children's feelings as they come.
Hug your children as much as possible.
Always be honest with them.
Teach your children not to depend on the approval of others.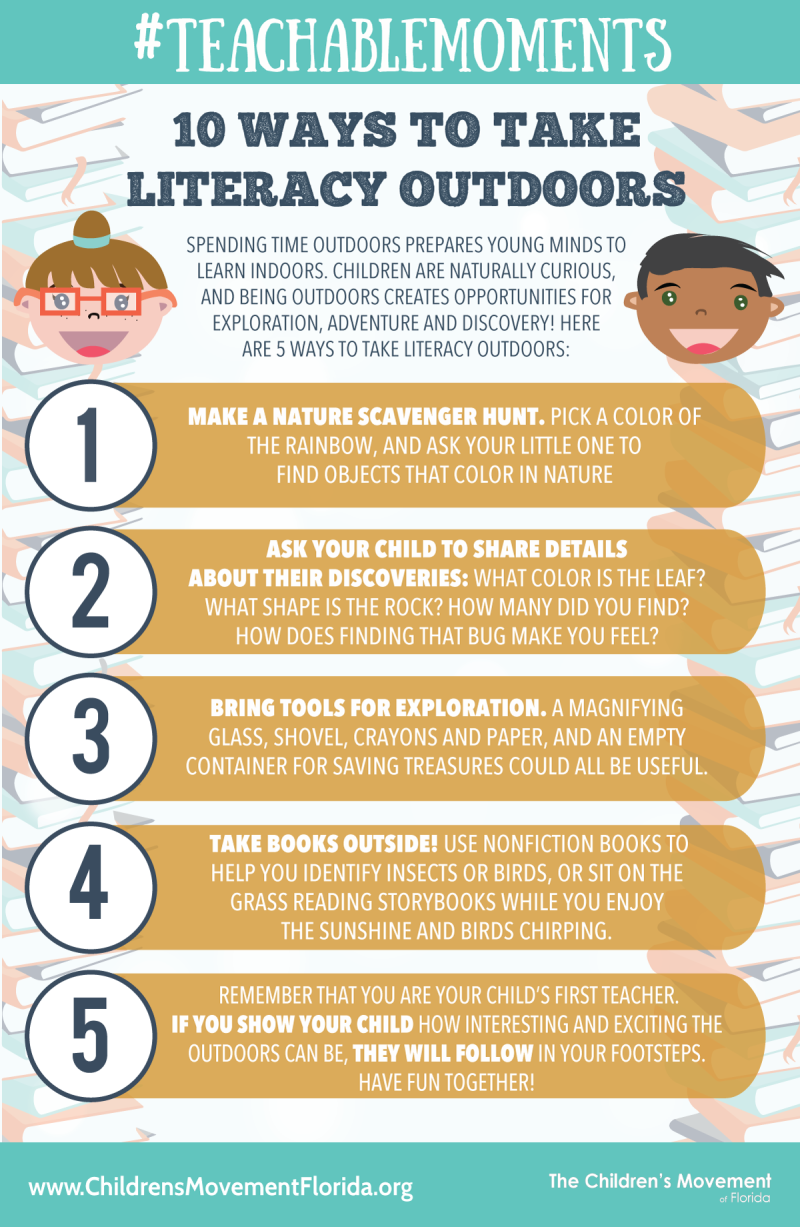 10 Ways to Take Literacy Outdoors
Make a nature scavenger hunt. Pick a color of the rainbow, and ask your little one to find objects that color in nature.
Ask your child to share details about their discoveries: What color is the leaf? what shape is the rock? How many did you find? How does finding that bug make you feel? 
Bring tools for exploration. A magnifying glass, shovel, crayons and paper, and an empty container for saving treasures could all be useful.
Take books outside! Use nonfiction books to help you identify insects or birds, or sit on the grass reading storybooks while you enjoy the sunshine and birds chirping. 
Remember that you are your child's first teacher. If you show your child how interesting and exciting the outdoors can be, they will follow in your footsteps. Have fun together!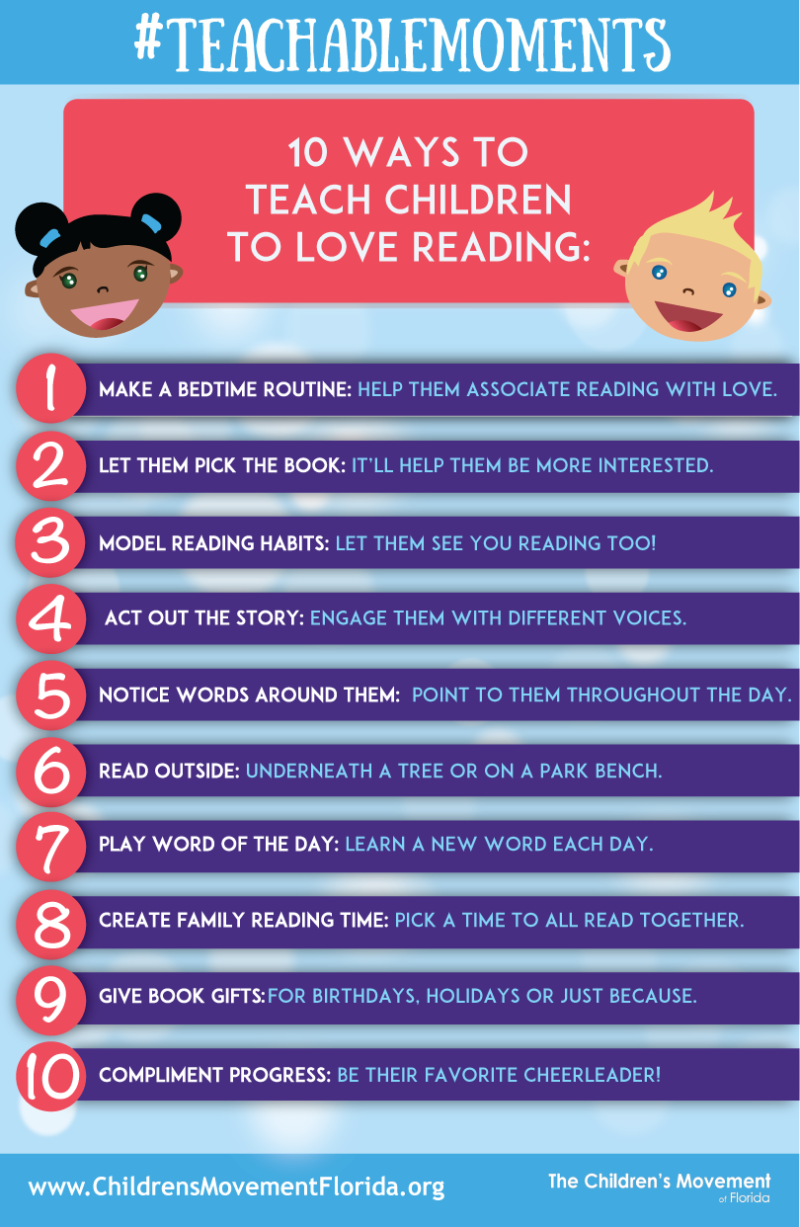 10 Ways to Teach Children to Love Reading
Make a bedtime routine: Help them associate reading with love.
Let them pick the book: It'll help them be more interested.
Model reading habits: Let them see you reading too!
Act out the story: Engage them with different voices.
Notice words around them: Point to them throughout the day.
Read outside: Underneath a tree or on a park bench.
Play word of the day: Learn a new world each day.
Create family reading time: Pick a time to all read together.
Give book gifts: For birthdays, holidays or just because.
Compliment progress: Be their favorite cheerleader! 
Back To School
Have a plan of action! Map our your child's routine by setting an earlier bedtime and wake up time around their school schedule. The first few days can be rough, but starting the sleep routine early can make a big difference. After all, sleep is very important! 
Meal plans can be a big help getting back in to the swing of things. Before you go to the market, have a plan for what you will be feeding your child. Making sure that you have prepared your plan for the week can alleviate some of the stress of transitioning your child into a new school year! 
Make an appointment with your child's pediatrician before the rush. Immunizations and physical exams can be a pain, but with your appointments out of the way early, you will avoid the long wait in the waiting room. 
Leaving your child at school can be nerve racking. You can have your child be part of the prep process by helping pack their lunch, collecting school supplies, or even taking out their clothes for school the night before. Encouraging independence will make the transition much easier on them.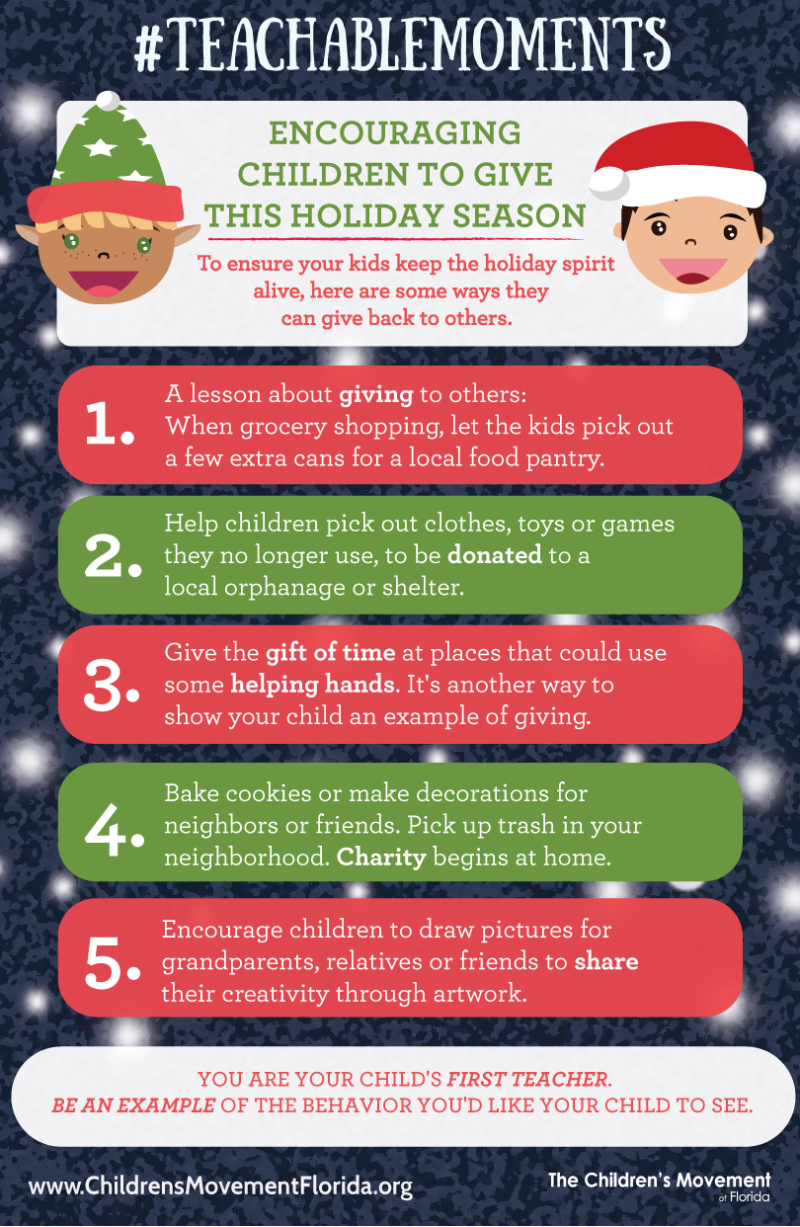 Encouraging Children To Give This Holiday Season
A lesson about giving to others: When grocery shopping, let the kids pick out a few extra cans for a local food pantry.
Help children pick out clothes, toys or games they no longer use, to be donated to a local orphanage or shelter.
Give the gift of time at places that could use some helping hands. It's another way to show your child an example of giving. 
Bake cookies or make decorations for neighbors or friends. Pick up trash in your neighborhood. Charity begins at home.
Encourage children to draw pictures for grandparents, relatives or friends to share their creativity through artwork.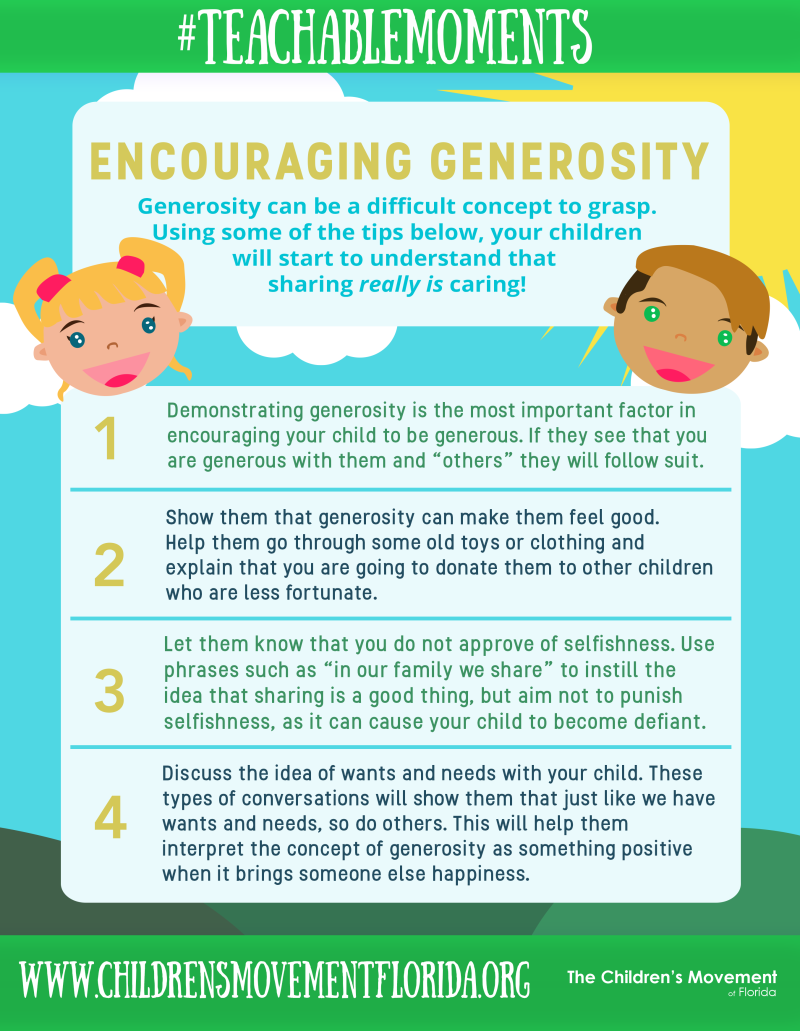 Encouraging Generosity
Demonstrating generosity is the most important factor in encouraging your child to be generous. If they see that you are generous with them and "others", they will follow suit.
Show them that generosity can make them feel good. Help them go through some old toys or clothing and explain that you are going to donate them to other children who are less fortunate. 
Let them know that you do not approve of selfishness. Use phrases such as "in our family we share" to instill the idea that sharing is a good thing, but aim not to punish selfishness, as it can cause your child to become defiant. 
Discuss the idea of wants and needs with your child. These types of conversations will show them that just like we have wants and needs, so do others. This will help them interpret the concept of generosity as something positive when it brings someone else happiness.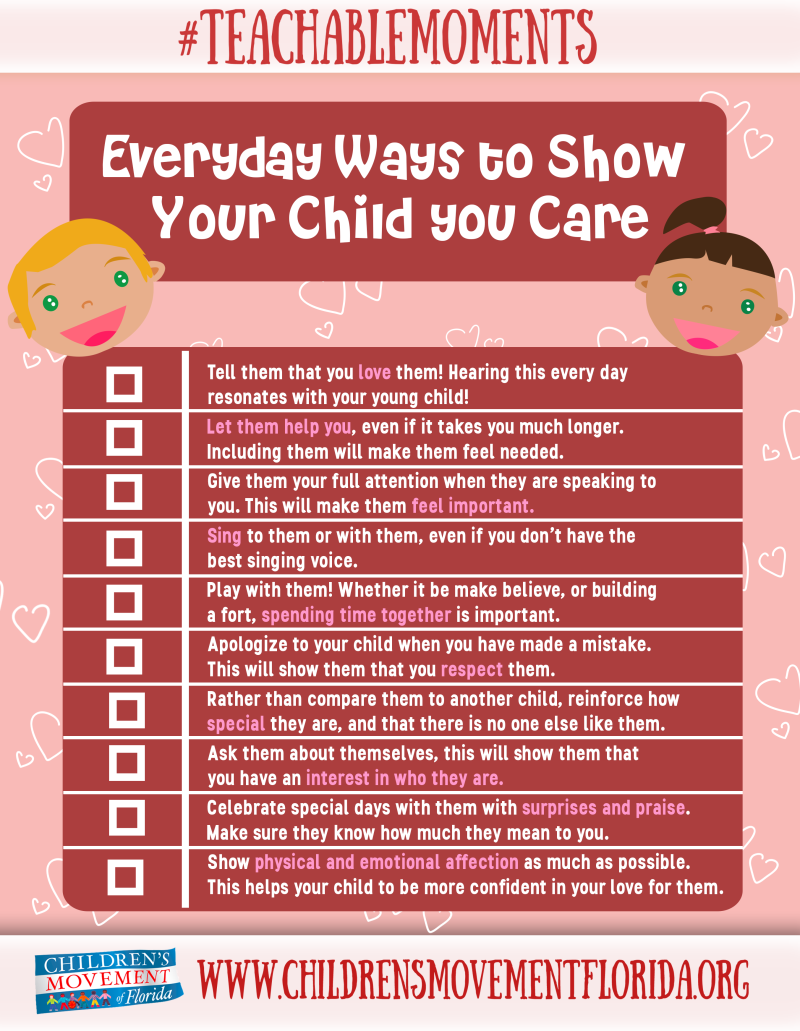 Everyday Ways To Show Your Child You Care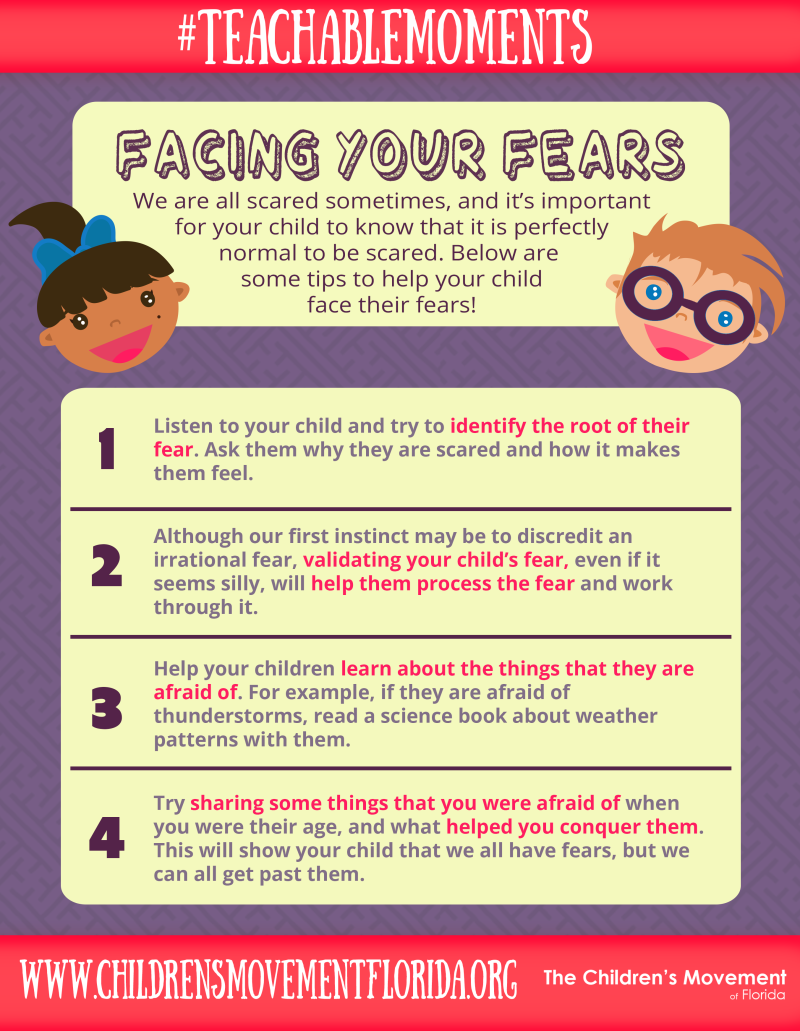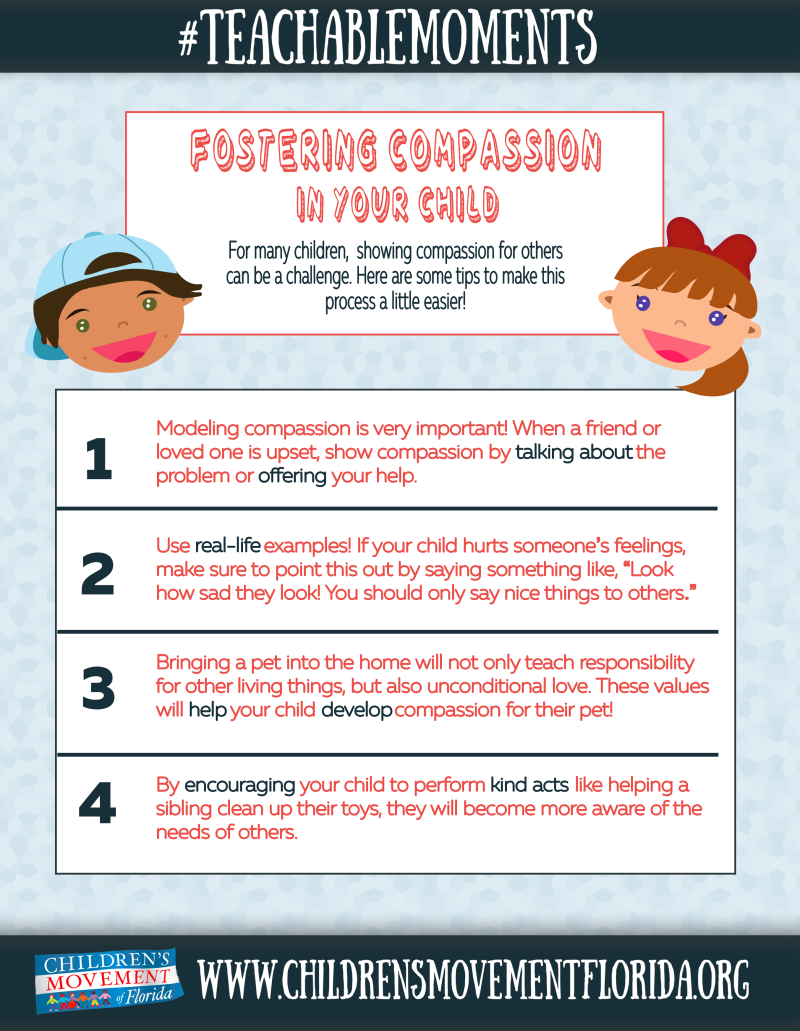 Fostering compassion in your child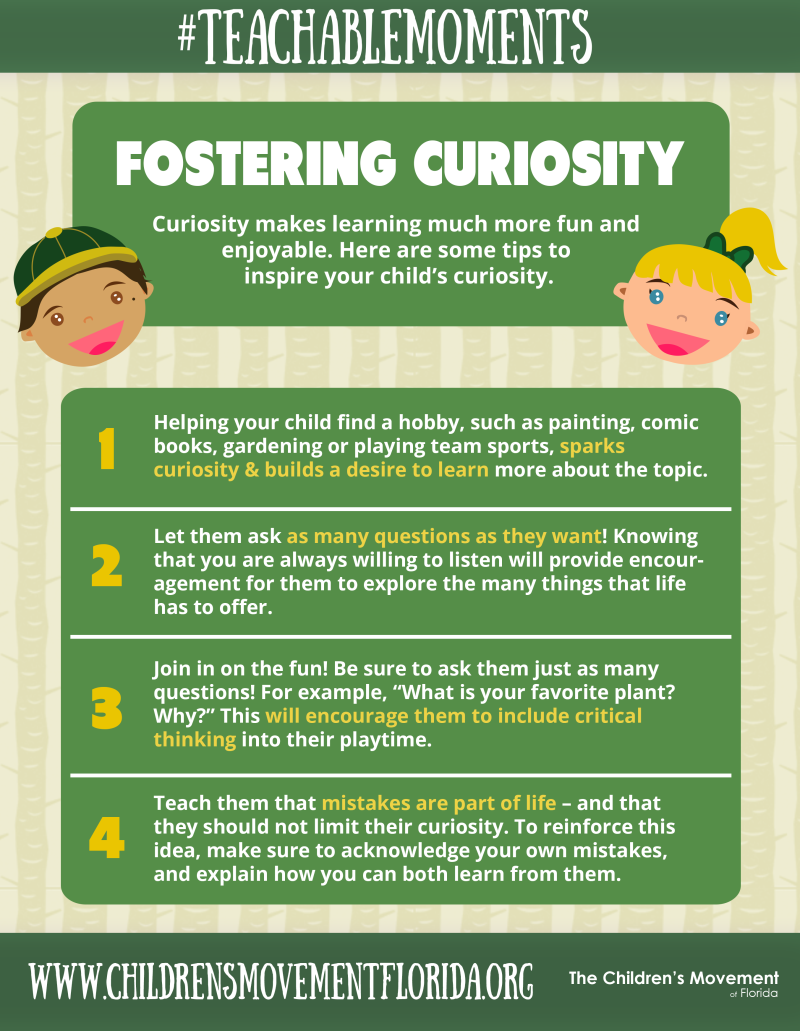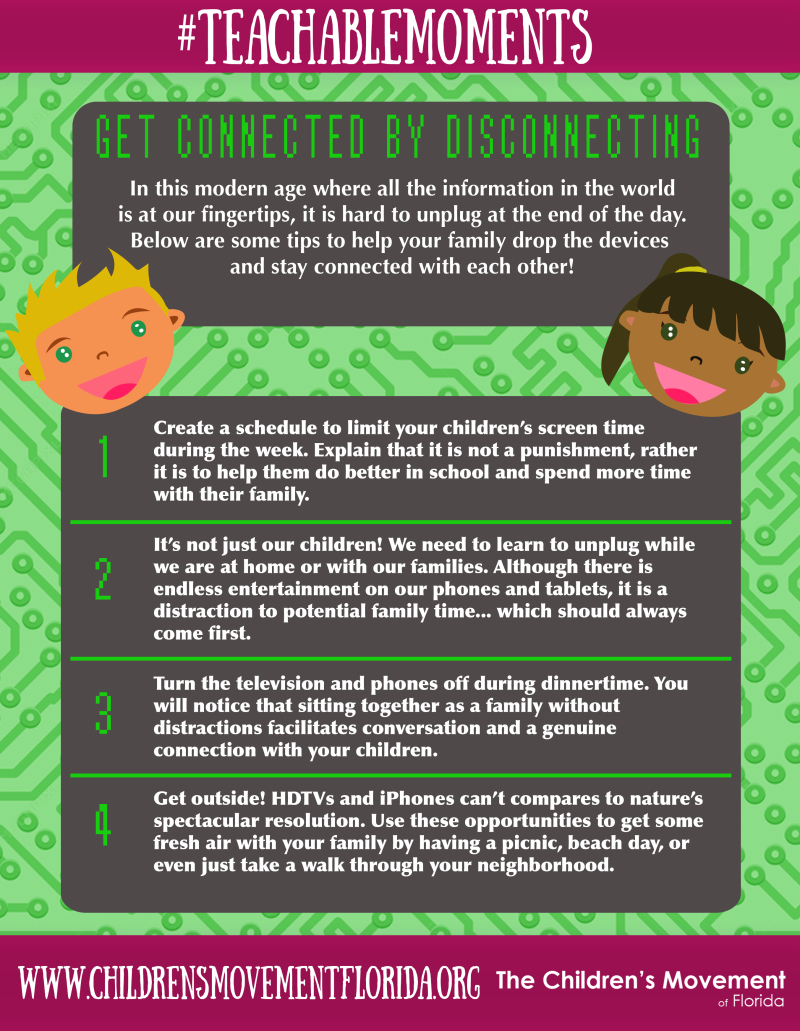 Getting connected by disconnecting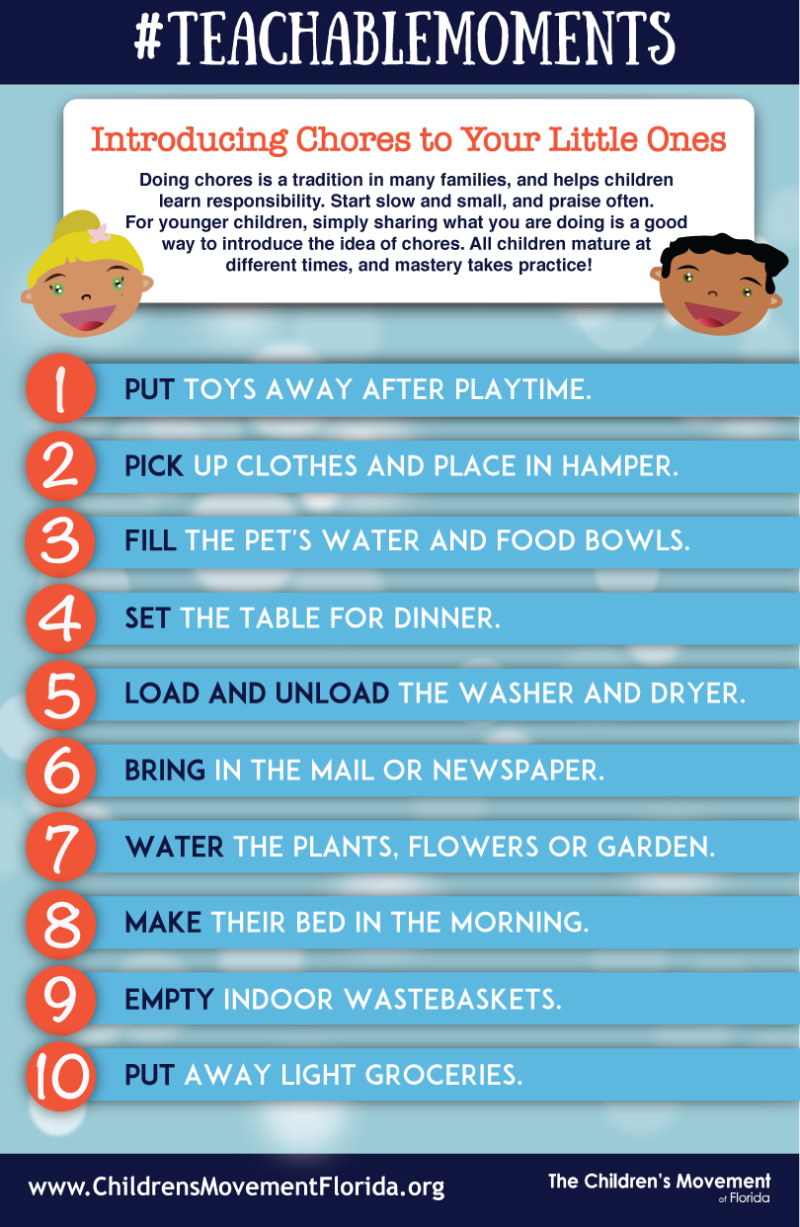 Introducing Chores to Your Little Ones
Put toys away after playtime.
Pick up clothes and place in hamper.
Fill the pet's water and food bowls.
Set the table for dinner.
Load and unload the washer and dryer.
Bring in the mail or newspaper.
Water the plants, flowers or garden.
Make their bed in the morning.
Empty indoor wastebaskets.
Put away light groceries.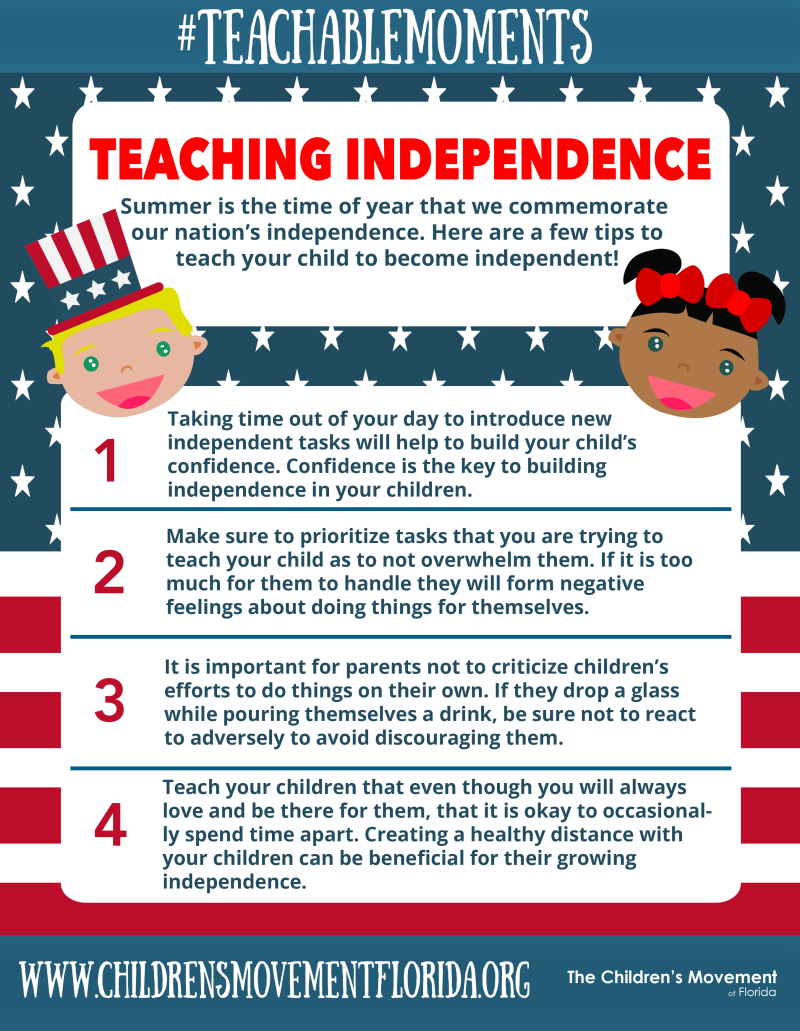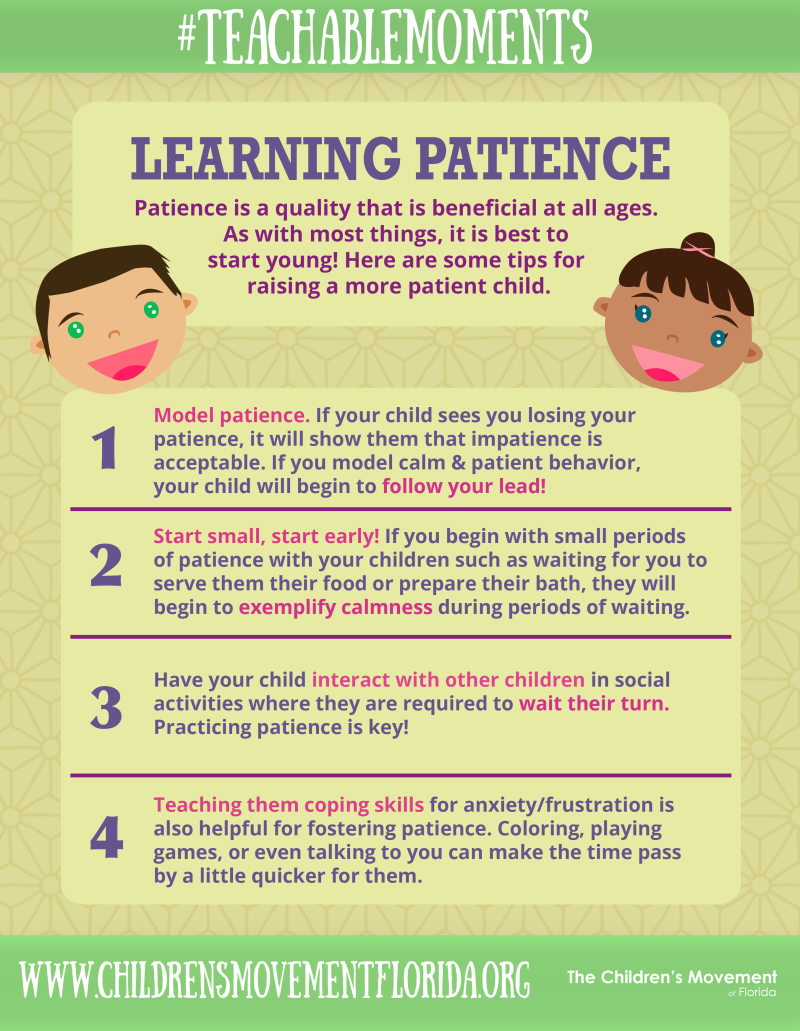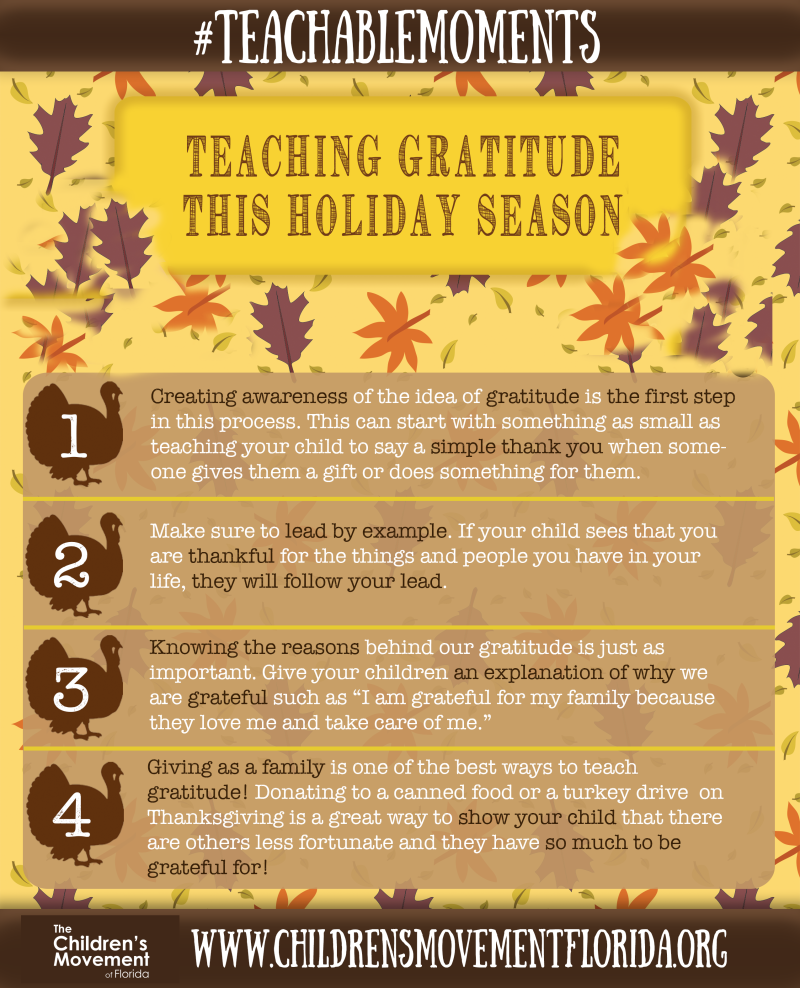 Teaching gratitude this holiday season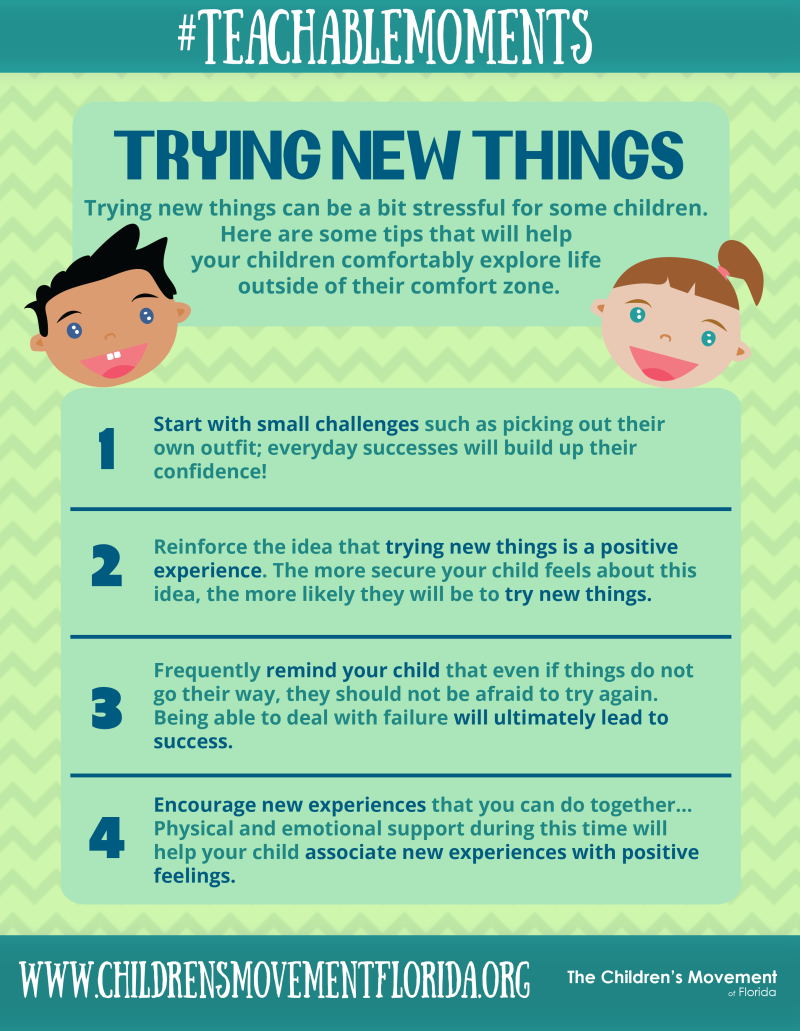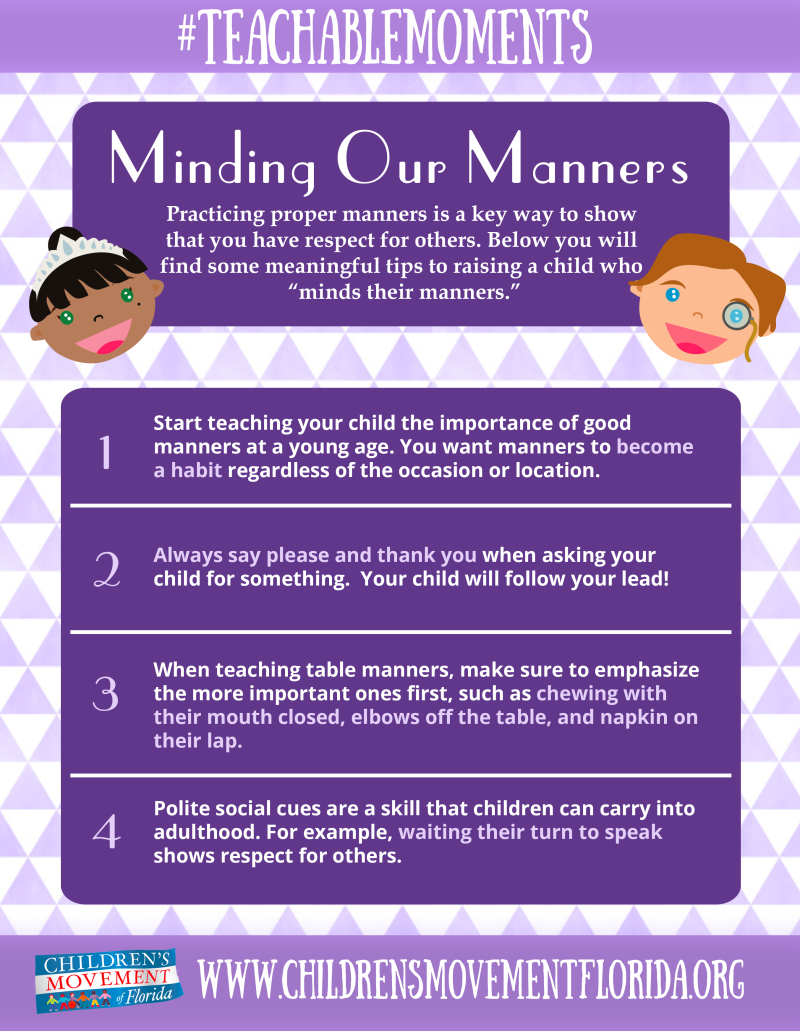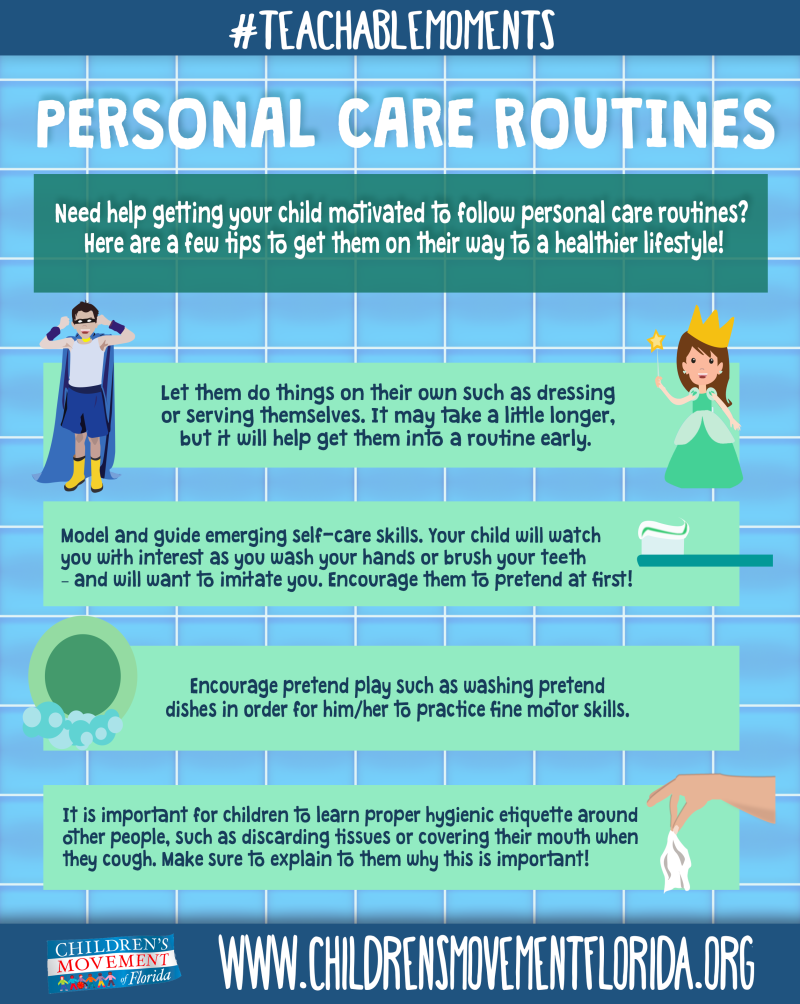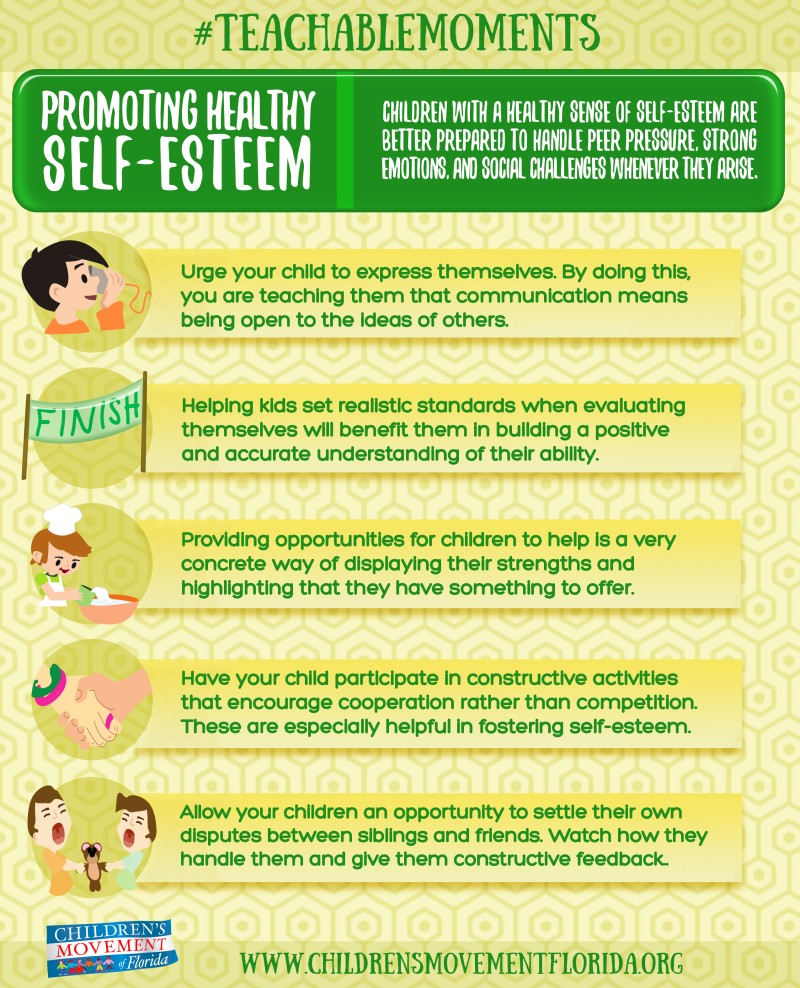 Promoting healthy self-esteem
Reducing your child's anxieties & fears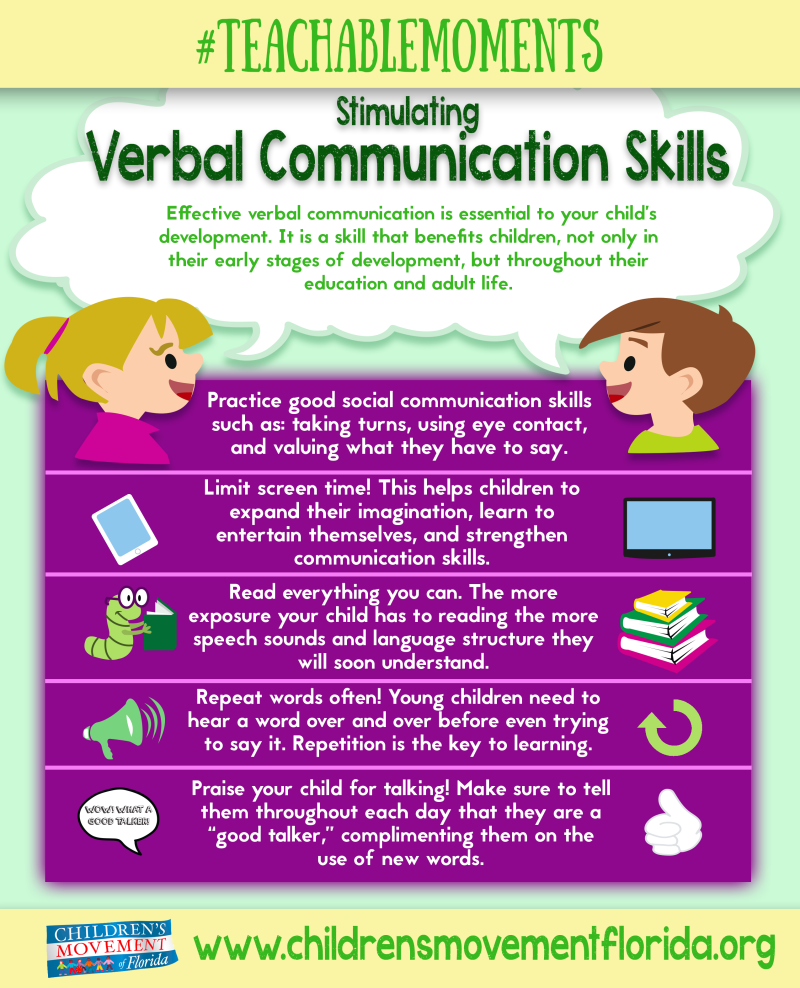 Stimulating verbal communication skills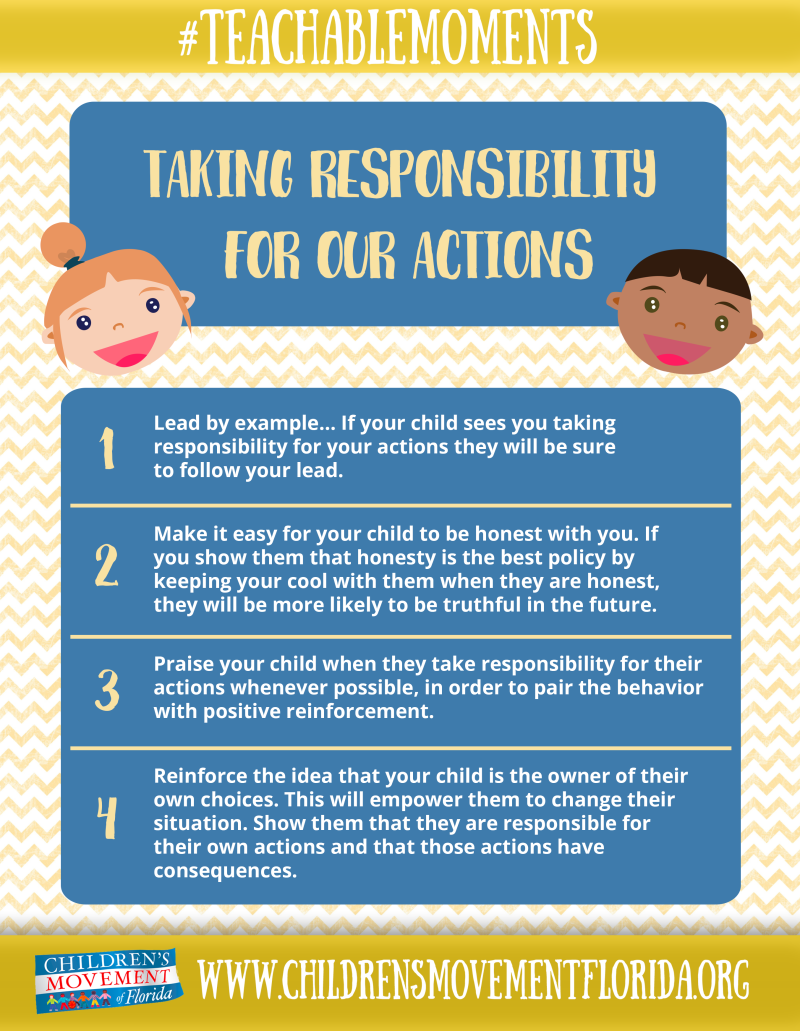 Taking responsibility for our actions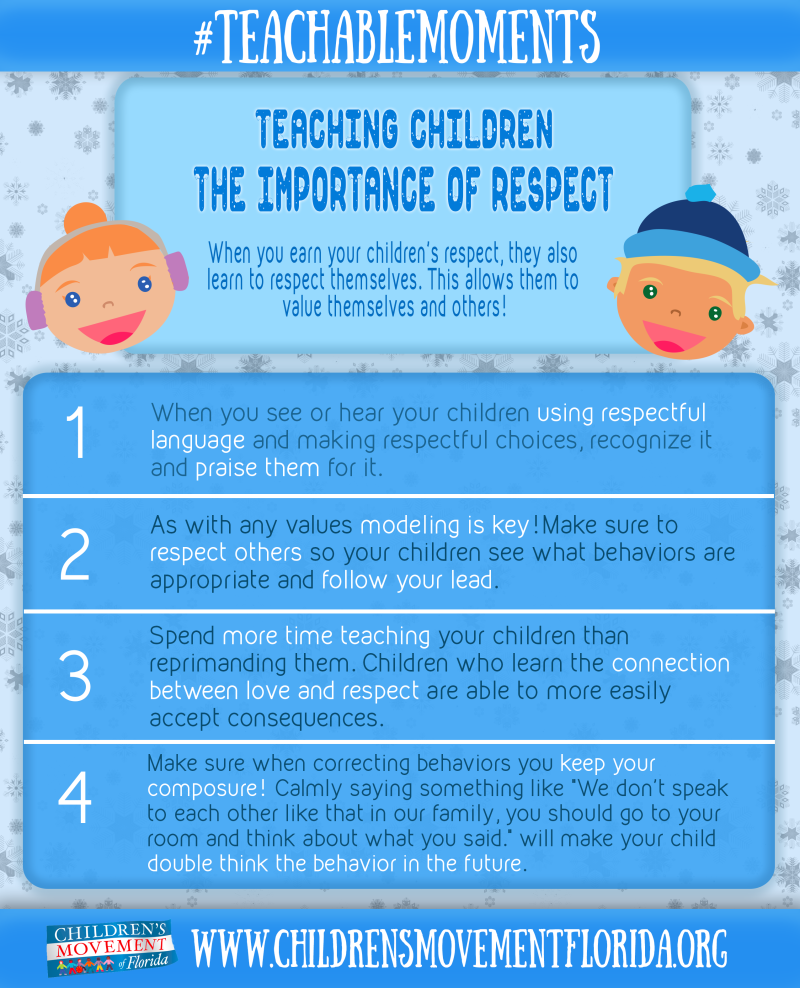 Teaching children the importance of respect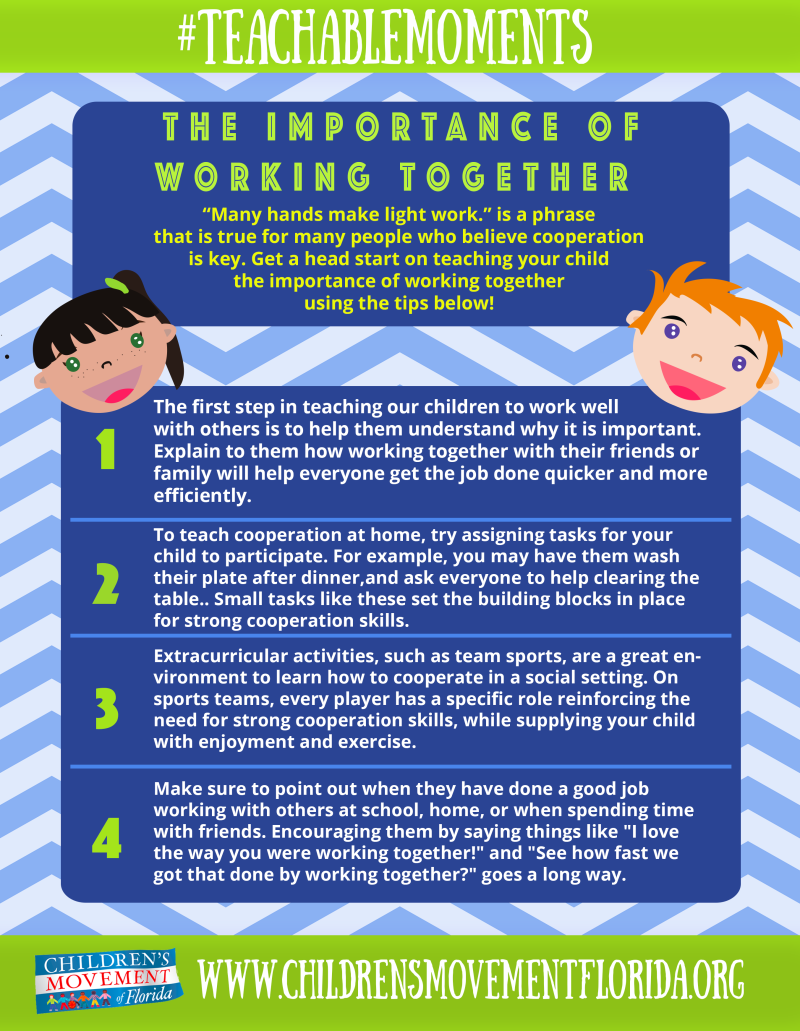 The importance of working together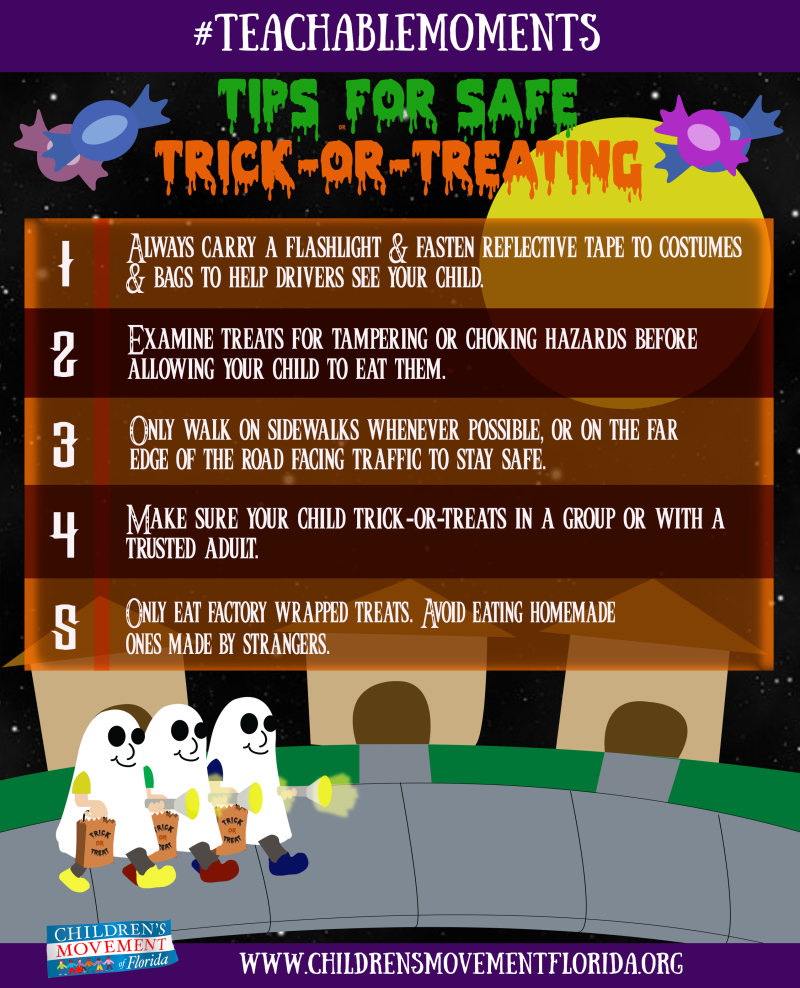 Tips for safe trick-or-treating