The Future Project - Steering Committee
El objetivo de The Future Project es visualizar un nuevo futuro de cuidado infantil y educación temprana en Florida. The Children's Movement of Florida y sus aliados están desarrollando un plan de acción para la educación temprana mirando más allá de la actual realidad política y centrándose en las necesidades de la niñez de 0-5 años y sus familias. La perspectiva de los padres de familia y educadores es la base de este esfuerzo, quienes a menudo han estado ausentes en las conversaciones sobre políticas y legislación.
El grupo incluye:
Padres y familias con hijos pequeños afectados por los servicios de educación temprana del estado
Agencias estatales clave que afectan o administran los sistemas públicos de la infancia y niñez 
Proveedores de salud, que ofrecen apoyo fundamental en materia de educación, salud, desarrollo y ayuda socioemocional a niños pequeños y a sus familias
Defensores y líderes que trabajan en sistemas y políticas de infancia y educación  temprana en Florida
Más sobre nuestro proceso de selección, expectativas y acuerdo con los miembros del comité.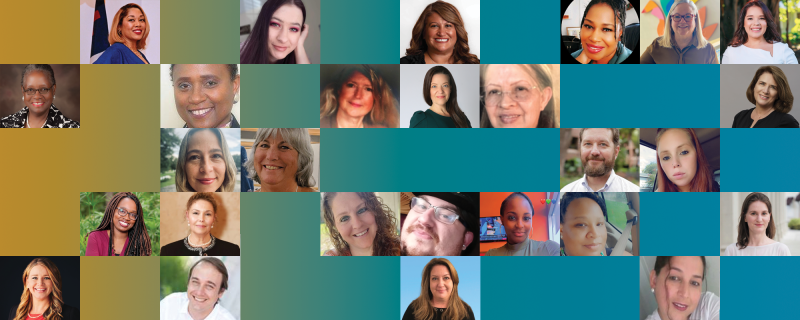 Miembros del comité  
Nuestro Steering Committee es un grupo diverso de personas que lideren el desarollo del plan de acción para la educación temprana en Florida. Son personas de distintos ámbitos económicos y antecedentes familiares; distintos estilos de crianza y preferencias educativas. Hay representación de diversas regiones de Florida, incluyendo las zonas urbanas y rurales y los distintos grupos raciales y étnicos. 
Anna Tedder, Board Certified Behavior Analyst and Educator, Pensacola
Arleen Lambert, Family Child Care Home Provider, Miami
Belisa Morón Espinosa, Parent, Jacksonville
Dawn Montecalvo, Guadalupe Center, Immokalee
Denise Brown, Parent, Jacksonville
Diana Romero, Home Visitor, Jacksonville
DJ Lebo, Early Learning Coalition of Flagler and Volusia Counties, Daytona Beach
Gladys Montes, Former educator and director, Miami
Heather Siskind, Jack and Jill Center, Ft. Lauderdale
Herman Knopf, Anita Zucker Center for Excellence in Early Childhood Studies, UF, Gainesville
Janet Maxham, Early Learning Coalition of Manatee County, Sarasota
Jennifer Coleman, Children's Services Council of Palm Beach County, Palm Beach
Jesyca Kuhl, Parent, Tavares
Kayla Miranda, Parent, Crawfordville
Kimberly Singer, Head Start Collaboration Director, Statewide
Kissha Ballard, Kissha's Little Ones Child Care, LLC, Orlando
Lourdes Villanueva, RCMA, Plant City
Madeleine K. Thakur, The Children's Movement of Florida, Statewide
Maria Somera, Parent, Sarasota
Mary Huffstetter, St. Lucie Public Schools, Port St. Lucie
Mia Jones, Children's Trust of Alachua County, Gainesville
Miracle Wilson, Parent, Daytona Beach
Molly Grant, Association of Early Learning Coalitions, Tallahassee
Nadeige Theresias-Joisil, Sant La, Haitian Neighborhood Center, Inc., North Miami
Nidia Duque, Early Childhood Educator, Lakeland
Pamela Hollingsworth, Early Learning Coalition of Miami-Dade and Monroe, Miami
Randy Aleman, Parent, Jacksonville
Rita Brown, Brownsville Preparatory Institute, Tallahassee
Russell Scoates, SWDC of Florida, Inc., Gainesville
Sandi Bisceglia, Former Elementary Teacher and Pre K-8 Principal, Florida Keys/Islamorada
Sasha Pack, Early Childhood Educator, Palm Coast
Sharon Miller, The Village Early Learning Center, Tampa
Simone McDaniel, Parent, Tallahassee
Suzan Gage, Early Learning Coalition of Northwest Florida, Panama City
Tamara Tener, Florida Family Child Care Home Association, Inc. (FFCCHA), Crystal River
Toshiko Pinckney, Early Childhood Educator, St. Petersburg
William L. Edwards III, Early Childhood Educator, Crescent City
Zhane Clayton, Early Childhood Educator, Daytona Beach
Kettia Lafleur, Parent, Arcadia
Equipo del proyecto
El comité cuenta con el apoyo de un equipo especializado de consultores y personal de The Children's Movement of Florida. 
Hamilton Simons-Jones, ResourceFull Consulting, New Orleans, LA
Maureen Joseph, ResourceFull Consulting, New Orleans, LA
Rocio Velazquez, The Children's Movement of Florida, Miami
Keshia Jenkins, The Children's Movement of Florida, Tallahassee
Participación de los padres: Talethia Edwards, TOE & Associates, Tallahassee
Familias de habla hispana: Mapi Garcia, The Joy of Impact, Miami